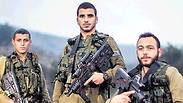 Omri Menachem, Shmuel Castro and Matan Shamir
Photo: Ohad Zwigenberg
They met for the first time this week. A short warm embrace, a quick handshake and a smile that spreads on their face as they're being introduced: Givati's Terrorist Neutralizers. Over the past eight months, during their operational duty in the West Bank, each of them found himself a target for a terrorist who sought to eliminate him. They each carry with them the experience of a terror attack that without their quick and effective reaction could have ended differently.

And, for each of them, that incident was also a way of coming full circle on the long journey they have each embarked on. "On my chapter one, I was only thinking about myself," says Sgt. Matan Shamir, who left his home at a young age and moved to a boarding school in order to change his fate. "I didn't think about enlisting in the military. It was clear to me that it was a waste of time and that it was better that I went to work instead. Now, as a fighter who likely prevented a much graver terror attack than what had happened, I know I made a significant contribution. It's a way to make up for my violent past."

Cpl. Omri Menachem realized after the attack just how much he misses his mother, who passed away from cancer three years ago. "After the attack, I thought about her a lot. What she would've said, whether this was the path she would've wanted me to take, and I don't have the answers. Not a day passes by that I don't think about her, and it's not easy. Instead of talking to her about the things I went through, I talk to my friends."

"The attack at the Focus checkpoint confirmed that I belong here," says 1st Sgt. Shmuel Castro, who made aliyah from France eight years ago. "Now I'm worth the same as the other soldiers fighting alongside me."
'Dreaming of returning to the battalion'
They listen closely to the recounting of each of the incidents, taking in every word. "My incident happened a month and a week and a half ago," starts Sgt. Matan Shamir, 20, and admits he's been counting every day that has passed since. "What can I say, it was a life-changing event for me." He describes the events with great detail, as if they're happening here and now.
"We were on a patrol of Huwara, securing Highway 60, a flashpoint that a lot of settlers and Palestinians drive through. We stopped inside the village at a known friction point. There are often shootings, stone throwing, and Molotov cocktail throwing there, and the presence of a military force helps the settlers in the area - Itamar, Yitzhar, Har Brakha and Elon Moreh - feel safe. During the patrol of the village, my commander noticed two Palestinians that looked suspicious and asked them to present their IDs. One got his ID out of his pocket and the other got a piece of paper out. When the commander stepped forward to look at the paper, the Palestinian pulled out a knife. My commander tried to kick him to keep him away and cocked his weapon at the same time. The terrorist charged him, stabbed him in his thigh, and he fell down on the road.
"In a split second I knew that if I don't act, the commander wouldn't be with us anymore. I shot the terrorist and neutralized him, and then the other Palestinian, who presented his ID a minute ago, jumped me with a knife in his hand and stabbed me very close to my eye. With one hand I knocked his knife out of his hand and shot him. It was then that I realized I've been stabbed. I was bleeding but I didn't think much of it. The only thing that was going through my mind was that no other attacks follow. We were inside the village and meanwhile masses of people who heard the gunfire started coming towards us. Stones were thrown at us, and my commander was lying on the road wounded. I wasn't thinking about myself, just the fact that we needed to radio for backup.
"While waiting for backup to arrive, I fired into the air to keep the village residents at bay. I knew this wasn't what would scare them off, but at least they won't come too close to us. Despite the fact I was bleeding, I felt no pain and I was able to function. There were a driver and a fighter sitting inside an armored vehicle nearby, who didn't hear what was going on, and left their vehicle only when it was all over. I gave them my arterial tourniquet and asked them to treat the commander and I kept working to prevent the village residents from rioting. After about four minutes, the reinforcements arrived and I remember feeling relieved. Not so much on my account, but because of my commander who lost a lot of blood from his leg and could not get up. I wanted him to receive treatment. It was only when they bandaged him up and evacuated him to the Rabin Medical Center in an ambulance that I noticed my face were covered with blood and that my vision was a bit blurry.
"One of the paramedics in the ambulance that evacuated me said I shot my commander. I don't know why he said that. He wasn't even there. I didn't believe what I was hearing. I panicked. The entire drive in the ambulance I wasn't worrying about the cut in my face, I was just recounting what happened on the road in Huwara and told myself there was no way I shot him. When I also got to the Rabin Medical Center's emergency room, and saw him lying there, the first thing I asked was, 'Bro, is there a chance I shot you?' And he answered 'No, why would you ask that?' and added 'Am Israel Chai.' I calmed down.
"I was at the hospital for three days. At first I was suffering from blurry vision and pain, and to this very day I have a problem with my jaw. The nerves in my face must've been hurt and I can't open my mouth, so the most I can eat is pizza with a thin crust. I'm doing physiotherapy at the Rambam Medical Center. The doctors are talking about an operation I'll probably have to undergo, but really, I'm just dreaming of returning to the battalion."
'Is someone trying to run me over?'
Cpl. Omri Menachem, 18, who serves in the Givati Brigade's Rotem Battalion, where Shamir also serves, takes in everything the older soldier says with rapt interest, and at the end of Shamir's story all he can say is "Wow." The attack he experienced happened the day before, on December 26, when the two were serving in the very same sector. "I was stationed at Har Brakha as part of our operational duty in the Samaria region, and as part of that activity we were doing security operations that included searching for wanted suspects and weapons in vehicles leaving from Nablus. That morning, a vehicle slowly cruised into the security check lane and all of a sudden we heard the drive changing to first gear and stepping on the gas. We were standing on a traffic island and my commander, who saw the car speeding towards us, yelled 'Vehicular attack, vehicular attack.' I remember thinking: What, is someone trying to run me over? Like I couldn't believe this was happening. I went off the traffic island, the car hit my leg and knocked me down on the road. A second later I got up and shot the driver, who ran into a concrete barrier that was there.
"In that moment, I didn't feel any pain. I was standing on both feet and I was focused on the terrorist in order to neutralize him. I saw he fell down onto the seat. I realized he was hit and stopped shooting. My commander, whose weapon jammed and that's why he didn't open fire, came running towards me with another soldier, while they're radioing in what had happened and calling in the on-call squad. When the battalion aid station arrived, they gave me medical treatment. The terrorist, who I thought was dead, was pulled out of the car. He opened his eyes and received treatment. He was evacuated to Nablus in serious condition and died there. I was taken to the Rabin Medical Center. At first they thought I broke my leg, but it later turned out I only had a sprain. Several hours later, I was sent home for the night, and the next day I was back at the base."
He speaks quietly. There are long pauses in between his sentences. The vehicular attack is still not a thing of the past for him. The pain in his leg and the thoughts in his head remind him of that day. "After the incident, I thought a lot about what happened, and slowly, it's disappearing, bothering me a little less. You think that someone tried to run you over and realize in what danger your life, and your commander's life, was during those seconds. Sometimes I play the incident back in my head, tell my friends about what happened, and that helps me unload and not get traumatized."
"I agree with you," 1st-Sgt. Shmuel Castro, 20.5, the oldest of the bunch, tells the youngest. "It is true that talking helps blow off steam, but I prefer talking about others who were wounded in the attack, and less about myself, as I wasn't wounded. At first I was asked a lot of questions, and got a little bit tired of talking about it, but later you realize that tomorrow, another soldier will be at that checkpoint and he needs to know what's waiting for him and how he could act."
On January 31, Castro was at the Focus checkpoint, a VIP checkpoint on the exit to Ramallah that senior Palestinian Authority officials, businessmen and white collar workers with special permits go through. "I was standing on the side of the checkpoint when a vehicle with PA license plates came. All of a sudden the driver came out of the car and started shooting at two of my soldiers who were standing at the checkpoint. I was about 12 meters away, next to the patrol vehicle. I quickly ran to the checkpoint, saw one of my soldiers lying wounded on the ground and still shooting. That was ineffective shooting and I shouted at him to stop. After the terrorist shot the two soldiers, he tried to keep going, either to escape or to keep attacking, but I ran to the checkpoint and he hit the brakes. I reached the car and saw a driver from the Palestinian security service. He pointed his gun at me but I fired my weapon first and neutralized him.
"At that second, as I looked at him, I wasn't thinking about anything," Castro says, and Shamir jumps in: "You can't think about anything, especially when you see your soldiers on the ground and you know that if you don't shoot, he'll shoot you."
"Absolutely," Castro agrees, and goes back to telling his story.
"After shooting at the terrorist, I went back to my soldiers. Elidor was on the ground, Or was holding his wounded finder. One of the terrorist's bullets hit his weapon and shrapnel from it got into his finger. I told myself I had to bring them home in one piece. I noticed that Or wasn't very seriously wounded and told him to radio for help. I won't forget this image: Or holding his wounded finger, letting go of it for a second to hold the radio's receiver, and after making the report, he went back to hold onto his bleeding finger. While Or was calling for help, I turned my attention to treating Elidor, who got a bullet to the chin. The bullet went through his neck and went out under it. I got my personal bandage out of my bag and pressed on the wound really hard. Another soldier bandaged himself and when he was done, took over from me in treating Elidor.
"It was only then that I could provide a clear report on the radio, and then it turned out that S., the driver of the patrol car, was also wounded from the gunfire. I ran to him, asked what was happening, and he just said that his stomach was hurting. I tore off his shirt and couldn't find anything. When the patrol commander arrived, I asked him to keep looking for the injury, which turned out to be a serious bullet wound in his thigh and intestines. I then turned to report about the three wounded soldiers and to make the scene of the attack sterile.
"It was only after reinforcements came and the wounded were taken to the hospital that I went over what happened again and again, telling myself that from the moment the terrorist started shooting until he was neutralized, only a few seconds have passed, but an incident like that could have turned out differently. The terrorist could have crossed the checkpoint, got to the nearby Giv'at Asaf hitchhiking stop, or to Beit El, or to the Judea and Samaria Division base. The quick reaction is what prevented this.
"From everything that happened, the thing that affected me most is the fact that three soldiers who were under my responsibility were wounded. Two were released and S. is still hospitalized. I know there was nothing I could have done differently, and at the end of the day we succeeded in stopping the attacker, but it still weighs heavy on my mind."
"An incident like that could've ended in disaster," Shamir tells him. "I'm sure you feel great satisfaction for succeeding in your mission." Castro smiles.
Castro and Menachem have returned to active duty and are preparing for the intensive training exercise they are about to leave for at the beginning of the week. Shamir is still doing physiotherapy. "Everywhere I go, they view me as a hero," he says. "Even my family and friends treat me like this. In Afula, my city, I'm pretty famous because of the attack and it's a bit weird. It is nice to know you're being appreciated, but I don't really feel like a hero. I'm a fighter. I reacted well during the incident, which is what is required of me, I was trained exactly for that moment."
"I don't think another soldier or commander would have reacted any differently, but the positive feedback I get makes me feel good," Castro admits. "We've worked so hard during operational duty for half a year, and the pat on the back is important."
Menachem concludes, "I was in a situation that endangered me, the other soldiers and the people we need to protect, and it was obvious that we needed to stop the terrorist from going ahead with his plan. The appreciation around me helps me move on, not dwell too much on what happened. I know I acted right, and these positive reactions help give me strength."
Not afraid of knives
Even though they feel like the title of "hero" is a bit too much for them, they admit that the incidents they experienced have left their mark on their lives and affected them on a personal level.
Sgt. Shamir was born in Afula and grew up as a nerdy kid until he started attending junior high, where he associated with the wrong crowd. He stopped going to class when he was in the 7th grade, got in trouble and was arrested after having participated in violent incidents. "At a certain point, I told the parole officer that I didn't want to live in Afula, and I moved to the Nirim youth village in Bustan HaGalil, which takes in at risk youth, and has even stricter discipline than the army. This place saved me. It wasn't easy for me. I got there when I was in the 9th grade and didn't believe I would last, but these were the four hardest and most significant years of my life. There were a lot of moments of breaking, and there was always someone to support me.
"During the 9th and 10th grade, I barely did any studying and was only able to do the field assignments, which were a big part of the schedule at the boarding school. It means treks through the desert, getting familiar with the field, and mostly getting familiar with your own abilities. These hikes made me who I am. After two years, I realized I needed to get back control over my life, and with the help of the team at the school and my friends, I went back to school and graduated high school with a full diplomat with an average grade of 86 percent. I haven't been living at home with my parents and have barely been in touch with them since the age of 14. I was disappointed with them because they didn't support me at first, but as the years went by, our relationship improved, and now, because I was wounded, we're even closer.
"When I graduated, I decided I wasn't going to renew the unhealthy relationship I had with my old friends, and I stuck to that decision. Today, there's no trace of Chapter One's Matan. I fought to enlist in the IDF. The IDF didn't forget about my entanglements with the police, even though it happened when I was 15, and wanted to send me to the Havat Hashomer boot camp base, where they send those considered special populations with difficulties in adjusting, but I was afraid this would take me back to who I used to be and I refused. I wanted to get to better places. I insisted on enlisting in a combat unit and I got to Givati." And despite the fact his jaw hurts him, he smiles a smile of triumph.
His two friends listen with rapt attention. "You've come quite a long way," Menachem says. "I look at the journey you've made with admiration," Castro adds, and Shamir thanks them, visibly emotional. "What I went through in the Huwara attack made me feel the closest to society I've ever felt. It's the height of contributing and giving something of myself to the state."
Castro lives in Jerusalem with his sister. He was born in Paris and made aliyah eight years ago with his mother and nine siblings. His father, who divorced the mother, made aliyah four years after them. "Mom decided to make aliyah to Israel after my older brother, who made aliyah before us, enlisted in the IDF. She couldn't stand the thought he was washing his own uniform. I went to a religious school and in the 9th grade, I went to the Or Etzyon hesder yeshiva in Merkaz Shapira. When I joined the army, it was clear to me I wanted a significant service, so I went to Givati. I was assigned to the Shaked Battalion and went on commanders' course and officers' course. Near the end of the course I suffered from hyperthermia and had to drop out and return to the battalion. Next month I'll go back to finish the course, which makes me very happy. Even though I don't see myself as a new immigrant, and feel completely Israeli, the fact I'm a fighter and I give something of myself to my soldiers, really connects me to life in Israel."
Cpl. Omri Menachem lives with his father and younger brother in Rishon Lezion. When he was a junior in high school, his mother passed away from pancreas cancer. "It was a horrible year. I had to find the strength to keep going. I kept reminding myself that it was very important for mom that I have a high school diploma and it was thanks to her that I didn't break down and I put an effort into my studies. My family pressured me not to take a combat role in the army. My grandmother, who lost her daughter, was thinking of the worst possible scenarios and couldn't stop crying and tried to convince me, but I insisted on taking my own path and joined Givati."
"You're brave," Shamir tells him. "You lost a very important person, and the fact you went to a combat unit is a massive sacrifice. You should know that you're the bomb." And 1st.-Sgt. Castro adds, "I don't think just anyone could have enlisted in a combat unit in a situation like that. You have a lot to deal with at home - brother, father, grandmother - and you still wanted your service to be significant. It says a lot about you."
The heartening words make Menachem open up even more. "Dad is a bus driver and he's not home most of the time," he says. "My brother was really affected by mom's death and in the months before I joined the army, I pressured him to go to school and not give up. I made sure he woke up on time and made it to school. But during boot camp, we were not allowed phones, and it was really hard. Despite the difficulties, I decided to move on with my life."
The word "fear" is not in their vocabulary. They prefer the word "alert." "It's positive fear that keeps you alert," Shamir says. "After all, I love cooking and I'm really not afraid of knives - my dream is to study in France and become a chef - even though a knife messed up my jaw."
"After a terrorist tries to run you over, you're a lot more alert and constantly looking around you, whether it's in Nablus or in Rishon Lezion," Menachem says. "I'm more careful on the road, paying attention to cars coming near me, and always walk on the sidewalk as far away from the road as possible. Playing it safe."