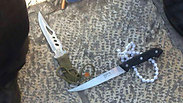 Knives from the attack attempt in Jerusalem
A young Palestinian woman carrying two knives was arrested next to the Damascus Gate at the Old City of Jerusalem on Monday. No one was hurt in the incident.
"The security forces spotted the young Arab woman next to the Damascus Gate and she aroused suspicion. As the police officers went to check the suspect, she quickly put her hand in her pocket. At the request of the officers, she took her hand out of her pocket with a large knife in her hand. The police then overpowered her and arrested her. A search of her purse revealed a second knife," a police spokesperson said.
The night before, two terrorists armed with M-16s shot at police officers at the Damascus Gate light rail station. Police returned fire, killing Amr Amru and Mansur Shwamra, both 20 from Dura. Amru was a member of the Palestinian Security Forces.
Also, a Palestinian woman attempted to stab a Border Policeman next to the site of Rachel's Tomb in the old city of Hebron earlier on Sunday. She was shot and lightly wounded, and transported to Shaare Zedek Medical Center in Jerusalem. After the attempted stabbing, youths started to throw stones at the Border Police forces.