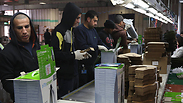 Palestinian employees at the West Ban factory
Photo: Gil Yohanan
SodaStream, alone in the fight against BDS
The Israeli company, which had to move its factory from the West Bank to the Negev, has been on the frontlines of boycott battles for over 8 years now. CEO Daniel Birnbaum talks about handling public relations abroad, his Palestinian employees, and bubbly water.
Along the assembly line at SodaStream's new factory, slightly above workers' heads, alongside instructions to "place the gasket on the hole in the middle of the valve holder," sheets of paper hang bearing the words "I am also Ali Jafar." Yelena Akon from Arad, Henrietta Fashinski from Ofakim, and Tatiana Zirbalev from Be'er Sheva - new immigrants from Russia - as well as Mounir El Karanawi from Rahat and Merav Brahmi from Be'er Sheva, say they hung it "because we do not want him to leave."
"This is the first time I've been working under a Palestinian boss from the West Bank," says Merav Brahmi, 22, who served in the Air Force before starting to work at SodaStream. "It was strange for me at first, but now it's very hard to handle the fact that he won't be coming in anymore."

"We're like a family," says Henrietta Fashinski, who struggles with Hebrew, but leaves no doubt as to what she means. "This is not right, and I do not see why it has to be this way."
Ali Jafar, who has been working at the factory for the past two and a half years, doesn't want to leave either. Jafar, 39, married and a father of five, lives in the West Bank village of a-Sawahrah a-Sharqiyah near Ma'ale Adumim. He manages one of the assembly lines at the factory, and is responsible for 50 employees - among whom are the women who put up the colorful tributes to him. His Israeli work visa is valid until May 2016, but he is one of 74 Palestinian workers who, regardless of what their visas say, are expected to leave the factory on February 29.
Jafar knows his employees really do mean what they wrote, but he also knows that what would determine his fate is not what's written on the posters hanging in the factory, but what's written in a letter SodaStream CEO Daniel Birnbaum was forced to sign: He committed not to ask for another extension for the visas of these 74 employees. The letter was sent on December 28, 2015 to Edna Sari, deputy director of the Payments Department at the Administration of Border Crossings, Population and Immigration Office in Petah Tikva.
And why did you sign? I asked Birnbaum, who replies: "Because that was their condition in order to allow the employees to continue working until the end of February, rather than stop their employment at the end of December."
Carbonated but healthy
A paved road in the green hills, covered with the bloom of spring that came early to the northern Negev, leads to a huge factory that SodaStream built in the Idan Negev industrial area; it is the joint industrial zone for the Bedouin town of Rahat, the communal town of Lehavim and the Bnei Shimon Regional Council.

This is a campus of four industrial buildings that cannot be missed from the road leading to Be'er Sheva, with dark green tiles and a red stripe along the walls. Within the plant, which is still under construction, there is an overpass for vehicles and forklifts, and underneath an underground road, resembling a pedestrian mall, for the 1,150 workers who work there. By noontime, the workers can be seen catching some sunlight down there, not far from the marble statue that was brought from the former factory in Mishor Adumim, on which an inscription says, "They will beat their swords into plowshares." Last Tu Bishvat they planted trees there. "They may not have sung 'Here Go the Planters,'" says the manager of the factories, Yaniv Abuhatzira, 41, fourth generation in Jerusalem on his mother's side, "but this is something they did, all together."

Together they are also manufacturing SodaStream, the homemade soda maker, which in 2003 celebrated its 100th anniversary. It began in London as a prestigious product favored by the upper classes, including the royal family. Fifty years later, in the middle of the 1960s, it became a popular gadget for the masses and was sold to other countries, such as the US and other European countries.

SodaStream arrived in Israel in 1978, and in 2006 it was purchased from its British owners for $6 million with the aid of a private fund owned by Yuval Cohen. After the deal was made, Cohen asked Daniel Birnbaum, then Nike Israel's CEO, to manage the company and revolutionize it. The product got rebranded into an eco-friendly product that is healthy for its drinker and the environment, unlike other soft drinks.

In 2010, under the management of Birnbaum, who bubbly and energetic, not unlike the product itself, the Israeli company went public on Nasdaq and was valued at $335 million. In 2011, the Israeli product was marketed worldwide, jumping from 13 to 42 countries with ten million customers and a market value that reached $1 billion. Most of the production was done in the industrial zone of Mishor Adumim that is east of Jerusalem, at a factory previously used by the Israel Military Industries to manufacture fuses for shells. "They will beat their swords into plowshares" was the motto that Birnbaum adopted.



Under his leadership, the company began to recruit Palestinian workers. At that time, nearly 2,500 employees worked for the company, 1,300 of them in Mishor Adumim, with almost 600 being Palestinians from the West Bank. Ali Jafar from a-Sawahrah a-Sharqiyah thought he was lucky to have found "such a great job."

"We were an island of peace," says Birnbaum, who was the first to recruit Palestinian and Israeli Arab workers for a factory. "We were the biggest employer of Palestinians in the West Bank. Workers came to our company on organized transports from East Jerusalem, Ramallah, Hebron, Jericho, and Nablus. They received the same salaries, terms and benefits as other workers, including medical insurance for employees and their families. We were providing livelihood to nearly 6,000 people - the employees and their families."
The main target for hate
It was, he says, long before BDS made headlines in Israel, "but we were already taking hits from the boycotters. We waged, without any help, Israel's war against the boycott that was growing and spreading. Then, and now, it isn't a political struggle against the occupation, it is pure anti-Semitism, cloaked as ideology. It was an expression of hatred that had nothing to do with concern for the Palestinians or the future of the West Bank. It was hate of which we were the main target - the yellow circle in the bull's eye."
"They targeted us even in 2007," Birnbaum wrote in a document to the US Congress two years ago, "and it got worse over the years. Our rapid expansion, from 13 countries in 2007 to 45 countries in 2011, the rapid increase in revenues from $90 million in 2006 to $547 million in 2013, prompted the false claims about 'occupier profits.'"
"Although there is no clear regulation against imports from the West Bank, the courts and regulators in Europe have determined that our activity is contrary to international law, and on July 4, 2014, 17 countries published a statement against the trade in products from the West Bank. They argued that such trading involves legal and economic risks.
"The message has spread throughout the world, even to far away Japan and New Zealand, as well as here in the United States. The hate rhetoric has evolved from sporadic incidents of few activists and marginal groups to something more mainstream, not only among our retail customers. We are experiencing a notable increase of activity also in the banking and investment community ... even in law enforcement, among celebrities and business leaders, and certainly in the college campuses and on the streets of our cities, including here in the United States.
"The BDS modus operandi against SodaStream has been quite simple. The activists reach out to senior executives at our retail customers with a letter or a request for a meeting. The messenger will provide so-called documentation and evidence of the 'illegality' of SodaStream, often citing the false claims. Often the approach to a retailer is accompanied by a social media or written letter bombardments by BDS activists. In many cases, these activists will also picket outside of these retail stores and enter the stores causing havoc by repeatedly vandalizing our products and throwing them on the floor, shouting and intimidating passerby shoppers. On many occasions our products have been damaged or stickered with grotesque images accusing SodaStream of war crimes such as ethnic cleansing
"Of special significance is the case of violent protest against a wholly-owned environmental concept store in Brighton, UK, which was targeted by BDS activists, twice a week, for over two years. During this period the police made numerous arrests, the media provided ample coverage, and British Parliament members, specifically Green Party representative Caroline Lucas, literally supported the violent attacks upon SodaStream. In celebration of the ultimate closure of this store on June 29, 2014, our UK office in Cambridge was taken over by hooligan activists with smoke grenades in what would appear reminiscent of a terrorist attack. In some cases, the retail partner just wants to exit this conflict and get back to their ordinary business and they will ask to terminate their business relations with SodaStream."
According to him, SodaStream has refrained from acting against these attacks, with one exception in which it filed a libel suit against BDS in France. "It happened in the wake of mudslinging we have absorbed, including the claims that we slaughter Palestinian children," says Birnbaum. "For example, they publicized a picture of a soda bottle covered in blood, and a headline that stated, 'one product equals the slaughter of a family.' The court accepted our lawsuit, ruled in our favor and fined the organization. This was the only time the organization was sued, but it also was the only time we sued."
Why only once?
"Because we did not want to give them a platform. It was very difficult to fight their claims against the occupation, to deal with their circus of lies that they ran everywhere, using a horrible terminology of apartheid and 'massacre.' They have made the art of lying into a science."
Where was the State of Israel?
"Those who helped us were the ambassadors in some of those countries."
Birnbaum went on to tell the US Congress that:
"Perhaps the most significant impact of the BDS Movement on our business came from the Nordic countries, specifically from Sweden, where our household penetration is the highest in the world: One in every four homes uses a SodaStream device and our brand awareness exceeds 80 percent in Sweden ... The brainwash of the BDS propaganda machine was so effective in Sweden that a dialogue was futile. Following intense pressure from Nordic media, and retailers who pleaded to with us to relieve them of the mounting political pressure and threatened us with cessation of all business, we agreed in 2011 to source all products for the Nordic markets from factories outside the West Bank. As a consequence, we began sourcing product from China - the "mother of human rights" ... The irony of this is that if we could have sourced product for the Nordic countries from our Mishor Adumim factory, we could have employed approximately 150 additional people and in so doing sustained about 1,500 additional Palestinians.
"Scarlett Johansson, who appeared in our 2014 Super Bowl commercial, was the victim of public bullying by Oxfam, whom she represented around the world for nearly a decade ... An interesting commentary around this debacle came from Canadian Labor Minister Jason Kenney ... who said in a TV interview following a visit to Israel: 'I didn't know that Oxfam was involved in crazy politics like this ... I thought they were gonna help poor people, not marginalize Israelis and make Palestinians unemployed.'"
What are they going to grow on this land?
When Birnbaum is asked to estimate the financial damage caused to the company because of BDS, he says: "It is difficult to determine its direct effect. Obviously BDS does a lot of damage. The BDS activists claim credit for the recent drop in our sales, especially in the United States; the sharp decline in our stock from $75 to $20; and finally for our decision to move our main factory from the West Bank to the Negev, even though it is part of the reorganization of the company. We do not believe BDS had a material effect on our business performance. However, BDS was a constant nuisance that required our attention. Our reputation as individuals and as a company was hurt, and of course there were customers who decided not to buy our products because of their propaganda."
Can you estimate how much time you devoted to dealing with BDS?
"There were times when I believe half of my time was devoted to this issue. But do you think that now that SodaStream is no longer in the West Bank, BDS has stopped persecuting us? Of course not. Now they say we steal natural resources from the Bedouin, particularly land and water."
This claim is particularly ludicrous, especially given the fact that the mayor of Rahat, Talal al-Krenawi, has made continued efforts to persuade the government of Israel and SodaStream to build the new factory there. 'Today, SodaStream is a symbol of hope and cooperation among residents of all the regions,' the mayor says.
"There is no dispute, and there never has been a dispute about the land the factory was built on, or about the water or any other resource in the region. BDS harmed Palestinians when our factory was in the West Bank and now they are trying to do the same thing with the Bedouins. It once again demonstrates their level of cynicism and hatred."
At one point in the conversation, Birnbaum is visibly bursting with anger. "What are they going to grow on this land?" he asks. "How is this stolen land? People who can't even show where Israel is on a map buy these lies and align their views according to that. We have been waging this war for eight years now, maybe a little more than that, by ourselves. Once a year I give a lecture to Israeli ambassadors and explain to them this is about, arming them in the fight against the thugs and old ladies who make noise outside our stores overseas, carrying the Palestinian flag and forcing us to lay off 500 Palestinian employees. International law, by the way, requires the occupier to provide work for the occupied, but we did it because we believe in coexistence, good will and mutual commitment.
"I explain all of this to Israeli ambassadors and hundreds of foreign journalists that we host at our factories. I also testified in front of the US Congress. I wish the Israeli Knesset listened to me like they listened to me there."
Part of the family
He travelled to the US Congress at his own expense. Before leaving, he consulted with the Foreign Ministry. He says they never got back to him. He also appealed to Minister Gilad Erdan, in charge of the fight against the boycott movement. Erdan returned his call. "You want me to go?" Birnbaum asked Erdan. "Go," the minister said. "And what do you want me to say there?" asked Birnbaum. "That hiring Palestinians in Mishor Adumim is an Israeli interest?" Erdan was in favor of that, but Birnbaum used his own words.
"I agreed to appear on every television station and explain our position, without conditions, without asking who will interview me," he says. "In February 2014, for example, I was on the BBC in the UK. 'How do you feel as a party to the occupation?' the interviewer asked me at the beginning of the interview. 'This is not a settlement,' I explained. 'The factory is located in Area C in accordance with agreements with the Palestinians. The truth may not be easy for many people to hear but even George Mitchell, who led the peace agreement in Northern Ireland and was President Obama's special envoy to the Middle East, visited us and said that this is a ray of light and cooperation in an area where there's little light.' We came to terms with the fact that we are alone in this fight against the BDS Movement, and that the State of Israel doesn't know how to explain itself and take advantage of the media assets that it has. It has failed to do so again and again."
And eventually you had no choice but to move the factory.
"The move was part of a whole plan of reorganization in the business following the difficulties and the decline in sales, which were not solely related to the boycott. We came up with a new plan that included stopping production in China, consolidating the other factories scattered in Kfar Tavor and Ashkelon and concentrating the warehouses in one place. At Mishor Adumim, we had 40 acres, here we have three times that area. But yes, the boycott had an impact on the decision.
"And then, a new front was opened against Israeli bureaucracy. We found ourselves in an absurd situation in which we were waging war to keep our Palestinian workers. Not because they are cheaper - they cost us just like any another worker - but because they were the people who have been working with us for years, we've known their families, celebrated their birthdays together and shared their pain through disaster; these were people who were part of the SodaStream family.
"I said to Shai Babad, the Finance Ministry's director general, 'This also has PR value: look, Israel is also worried about the employment of Palestinians. These people will be a bridge of hope for a normal life here.' He said 'Hasbara is not my thing, I manage the finances.'"
What exactly did you ask for?
"Work permits for our employees. They told us '600 is too much.' We said, 'okay, make it 350.' They said, '350 is also too much.' We went straight to the Defense Ministry and explained the matter, and they told us, 'We are with you, but the Immigration Authority belongs to the Finance Ministry and the decision ultimately rests with them.' Eventually they approved 120 work permits. Later they said, 'but they must be married with children.' And so, after all the wars, which I still cannot understand what interests they serve, they agreed to allow 74 Palestinians to work until the end of February."
Birnbaum claims that the State of Israel is fighting itself. That is the impression he got from the battles he waged: There is no coordination between the ministries, and more than once, one ministry has acted against another.
"There could be other reasons for the terror attacks we're currently experiencing, but the economic issue is certainly one of the most important factors. People there have no hope. Even the chief of staff said he supports increasing the quotas of workers, but we had to fight a world war for every worker, while at the same time more than 30,000 illegal workers enter Israel, and while the government approved additional visas for 20,000 Chinese workers.
"I wonder what kind of leadership we have here. I have a child who is a fighter in the Egoz special forces unit, and I'm doing everything I can to minimize the chances of a conflict in the West Bank. I hope this intifada doesn't escalate further. I fought for 74 workers over whom I was required to sign that I will not ask to extend their visas, while I believe Israel should take in a 100,000 Palestinian workers."
'At my age, who will take me?'
Birnbaum invested $70 million in the Negev factory. It is an impressive facility, meticulous, with a major emphasis put on aesthetics, "so it would be pleasant to work here." The complex includes a metal factory, a plastic factory, an assembly plant and a giant logistics warehouse: The entire production process, down to the last screw, is located in one place.
The device's cover, the operating mechanism, the bottles (from grains of plastic to one-liter bottles), the labels and information booklet are manufactured by 1150 employees, 392 of them are Bedouin.
Nabil Bashrat, 41, married with seven children from the village of Jaba in the northern Samaria region, who has been working at SodaStream for six years, manages the assembly plant. "They have really harmed us," he says of the transition. "At the end of the month I will have to look for a new job. At my age, who will take me?"
Two months ago, there was a farewell party for Palestinian workers. "Everyone cried," he says, "really cried. Other people don't understand what it is to work here. It's not just a salary. It's a home."
Two years ago, the factory received the presidential award for being an outstanding exporter. Birnbaum brought his entire managerial staff to the ceremony in Jerusalem. Before arriving, he told the security personnel at the President's Residence: "I understand you have to check us, but I ask you check all of us - Jews, Israeli Arabs, Palestinians - in exactly the same manner." When they arrived at the President's Residence, the Arabs were separated from the Jews, put in a side room and were strip searched.
After the ceremony, Birnbaum asked to speak. "Please," said then-president Peres.
"It's more important to be an outstanding human than an outstanding exporter," Birnbaum said. "It's nice that you give out awards, but we taught our employees to respect all people, and here, in this place, they were not respected. If you need to conduct security checks that include strip searches, make it mandatory for everyone." The President's Residence was shocked.
"This factory," says Rahat Mayor Talal al-Krenawi. "An example of coexistence. One hundred and fifty Bedouin women are working there, some of whom have not left home before, and Birnbaum created a job for mothers: They start at 8am and go home at 3pm. I hope this factory continues to grow and develop, because it is our chance - this factory and others like it. This is also your chance."
We had lunch in the workers' cafeteria. The CEO sits with everyone. Mohammed Barhoum, an electronics engineer from Ein Rafa, was eating with us. He is a devout Muslim, prays five times a day, and has been working at the factory for seven years. He takes out his laptop and shows me a video that commemorates the farewell party for the Palestinian workers.
"We will not forget the good and hopeful days we have had with you," say the workers at the end of the clip. "We hope that the issue with the permits is resolved, and that we stay together - Jews, Palestinians, Bedouin, Druze, Christians, new immigrants - on the SodaStream peace boat, and we will never again have to say goodbye."
"Amen," says Barhoum. "Amen," agrees Jafar Ali.
"Inside these buildings," Birnbaum says, "we are creating peace, and while we're at it we also make soda."