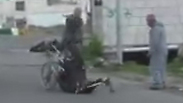 Wheelchair-bound Palestinian pushed off wheelchair
A Border Policeman was filmed Sunday in Hebron pushing a disabled Palestinian and knocking him off his wheelchair.
The incident, documented by Palestinian photographers, took place after an attempted stabbing attack in Hebron . Border Policemen and local Palestinians arrived at the scene when some residents started throwing rocks at the officers. Majid al-Fakhouri, a 50-year-old handicapped Palestinian who uses a wheelchair, approached the scene wanting to get near the female terrorist who had been shot by the officers and was lying just 15 meters from him.
The police prevented Palestinians from approaching and an altercation began between al-Fakhouri and one of the border policemen. At this point the police officer was filmed pushing al-Fakhouri's wheelchair of and knocking him backwards.
"I arrived at the scene to help and rescue the girl who was lying on the ground after having been shot. I did exactly what a person is expected to do," recounted al-Fakhouri. "I spoke with the officer standing there in a dignified way and he yelled at me, telling me to go home and then he pushed the chair and knocked me backwards."
"My son and my nephew came immediately and carried me back home. The police should be ashamed of what they did," Al-Fakhouri added. He was then was evacuated to a hospital in Hebron, but was released a short time later since he was only slightly bruised. He stressed that he was considering filing a complaint against the officers following the incident.
The Border Police issued a statement that read: "Upon receipt of the video, it was sent to the internal affairs department which has begun an investigation."