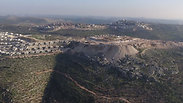 The Leshem area in the West Bank.
Residents of the West Bank settlement Leshem have expressed concern of Palestinian infrastructure work done right by the town's fence, saying the road being paved there illegally would allow for easy access to possible terrorists to Leshem.
The infrastructure work involves paving a road connecting two West Bank towns, and even though the Civil Administration declared the work illegal and ordered that it be stopped, activity near Leshem's fences go on, with residents fearing infiltration and terror attacks.
"We knew they were working, but suddenly we find that they're very close," Leshem council leader Aryeh Segel said on Tuesday. "We hear the workers talking amongst themselves. The distance from there to infiltrating the settlement and escaping is short. This is a significant security risk. The initial work done on the roads is easy to travel on with a regular car."
Leshem is in the western Samaria region near Pedu'el. On its north side is the village of Rafat, and the settlers claim that workers come from there. In the past, the Regavim NGO contacted the Civil Administration about the road paving and it was stopped, but since then the Palestinians have resumed building, this time closer to the fence.
The Civil Administration said in response: "An illegal road had been breached there for agricultural purposes, without obtaining the appropriate permits. With this in mind, we issued an order to stop work there. "
The legality of Leshem itself was put in question when it was established in 2013.Due to procedure dictating that new settlements be built only with government approval, it was initially labeled as a new neighborhood of the settlement Alei Zahav. However, the project was marketed as a separate town, and the bureaucratic steps that were taken to establish it were similar to those of new settlements.