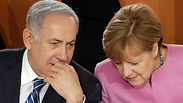 Netanyahu and Merkel during a government to government meeting in Berlin
Photo: AFP
Netanyahu: French peace initiative is 'curious'
France's threat to recognize Palestinian state 'ensures that the conference will fail, because if the Palestinians know that their demand will be met a priori, and they do not need to do anything,' prime minister says during press conference with German Chancellor Merkel.
Prime Minister Benjamin Netanyahu rejected on Tuesday the French initiative to hold an international peace conference, saying it is "curious" and bound for failure.
France has for months been preparing to hold a conference that would bring together the two parties and their American, European and Arab partners in order to revive the peace process. Paris has warned that if its peace efforts fail, it will recognize a Palestinian state.
Speaking during a press conference in Germany with Chancellor Angela Merkel, Netanyahu said this threat "ensures that the conference will fail, because if the Palestinians know that their demand will be met a priori, and they do not need to do anything."
The proposal, Netanyahu said, does not take into consideration the complexities of the conflict.
"It does not matter if this Palestinian state could become another Islamic dictatorship, one of many in the Middle East. It does not matter if it will not genuinely commit to ending the conflict and recognizing the state of the Jews. It does not matter if there will not be security arrangements that will prevent the capturing of territory that Israel would be due to evacuate by Daesh or Hamas or both of them. It does not matter," he said of the proposal.
The Palestinians welcomed the proposal, but the conference does not seem to be generating much enthusiasm from Israel or the international community, which is struggling to cope with far deadlier Middle East conflicts in Syria and Iraq.
Palestinian official Ahmad Majdalani said French officials had not discussed specifics about their country's plan. Still, he said the Palestinians support the initiative, and that he expected an international group would be formed after the conference to support the negotiations.
A French diplomat said his country hopes to hold the conference this summer.
Merkel, meanwhile, struck a relatively downbeat tone on prospects for peace. "As a member of the EU, Germany is trying hard to pursue a realistic approach," she said.
"Now is undeniably not the time to make a major step forward but we can achieve improvements here and there and we agreed Germany will help in terms of financial support," she said.
She also said that while Israel and Germany have different views on a sanctions-ending nuclear deal between world powers including Germany and Israel's arch foe Iran, there was a limit to how friendly Germany could be with Tehran.
"We have made it very clear that there cannot be friendly relations with Iran as long as Iran has not recognised Israel's right to exist," she said.
Earlier, Germany's foreign minister said the situation in the Palestinian territories isn't sustainable in the long term.
In an op-ed published ahead of the G2G meeting in the German daily Bild, Frank-Walter Steinmeier condemned the near-daily street attacks by Palestinians as "despicable terror."
Steinmeier stressed Germany's view that only serious negotiations aimed at a fair, two-state solution can offer hope of peace for Israel and the Palestinians.
'Israel is West's protective wall'
The Israeli prime minister and the German chancellor spoke to the media after the sixth G2G (government to government) meeting in Berlin. The two governments discussed the civil war in Syria, the fight against ISIS and other Islamic terror organizations in the Middle East and in Africa, and the wave of refugees flooding into the European continent.
Netanyahu thanked Merkel for Germany's cooperation with Israel, particularly in matters of defense, security and cyber security.
Netanyahu's comments during press conference with Merkel (צילום: רויטרס)
He stressed Israel and Germany's shared interests in dealing with the new situation in the Middle East. "In the midst of this terrific storm and the midst of these global turmoil there's one country in the Middle East that maintains not only an advanced society, a democratic society, an innovative society, but a society that maintains the very values that you here in Europe and you in Germany hold dear," Netanyahu said.
"We defend ourselves, there's no question about that, but in so doing we defend also your values. And by being where we are, in the center of the Middle East, by defending our flanks, by helping defend the neighborhood, we are preventing the addition of as many as a 100 million more people to the tragedy and turbulence of militant Islam," he continued.
"If Israel didn't exist, the entire Western part of the Middle East would be flooded by the forces of extremist Islam, and with this flood many additional millions would flow into Europe. Israel is the protective wall of Western civilization in the heart of the Middle East," Netanyahu concluded.
The prime minister also discussed the end of the crisis between Israel and the European Union, which began when the EU decided to label products originating from Israeli settlements, and escalated further when Netanyahu decided to suspend contacts with EU officials over the Israeli-Palestinian conflict.
"I heard from Federica Mogherini several very clear things: First, they will not surprise us with further initiatives. Second, they are against BDS and boycotts. What they have determined does not relate to the setting of the permanent borders of the State of Israel in a future agreement. And, as has been noted, we stood on (our) interests," he said.
Suspension bill
Netanyahu rejected criticism from President Reuven Rivlin and Knesset Speaker Yuli Edelstein about the suspension bill he proposed.
"There is a difference between anarchy and democracy. Democracy must protect itself. We won't allow for democracy to be taken advantage of in an effort to try and bring to its collapse," Netanyahu said.
The suspension bill would empower the Knesset to suspend its members if they worked toward advancing or inciting terrorism. The bill would require an amendment to one of the state's Basic Laws.
Prime Minister Netanyahu proposed the legislation in the wake of a meeting Balad MKs held with family members of Palestinian terrorists and the outrage that followed.
"When MKs back movements that openly call for the destruction of Israel, when they support terrorism and observe a minute of silence in memory of the murderers of children, the Knesset needs to act against them based on existing legislation," he continued. "I've spoken to the Knesset speaker and told him we were moving ahead with the legislation. I hope members of opposition parties will also join the effort to pass the bill. There are limits a democracy must maintain in order to protect itself."
Netanyahu also rejected criticism of the NGO labeling bill from a German journalist who drew a comparison between human rights in Israel and human rights in Russia or Egypt.
"The NGO bill is one of transparency. It's not one of censorship," the prime minister said.
Itamar Eichner and Reuters contributed to this story.