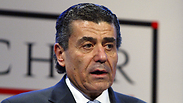 Haim Saban.
Photo: Getty Images
With senior members of the Israeli communications industry in attendance, cellular provider Partner launched its new eponymous brand, replacing the old Orange moniker. Their main message was the company's transition from cellular service provider to communications group.
One of those present was Haim Saban, Chairperson of Saban Capital Group, which controls the majority of Partner's shares. Saban hinted at the difficulties the company, like its competitors, is experiencing in the Israeli market, "We are here for the very long term. I am full of pride for the company."
During the event, Saban further said that his group, whose activities are primarily in the US, is open to additional investments in the Israel, and referred to the boycott of the country, saying, "I can say that we have identified the problem about a decade ago and there is no doubt that we need to fight it. The Prime Minister has made an important step by giving instructions to fight BDS and I hope that with the tools we have, we will cooperate with the various ministries. It's true that the boycott movement is more about image and I do not see a way in which it can economically harm Israel, but this is something that should be fought against with determination."
Partner Chairperson Adam Chesnoff and its CEO Isaac Benbenisti introduced the brand's new graphic language, with a new turquoise logo replacing the old orange-colored one. Benbenisti also said to the company was considering an entry into the television market, saying, "we are at a decisional crossroads on the matter." He further stated that Partner wants to be the first place people go for communications solutions, which include the personal and business markets, services, technology, content and equipment.
Partner took the opportunity to launch its first new product: Partner-Home, a home WiFi internet router that does not require installation or a physical connection to the telecommunications infrastructures of Bezeq or HOT (two of Israel's biggest home-internet providers). It simply needs to be plugged into a power socket, and the Internet connection is then provided by Partner's fourth generation cellular network.