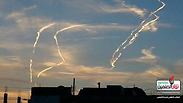 Israeli Air Force contrails over Syria (Photo: Archive
Israel allegedly struck a Syrian military outpost south of Damascus on Wednesday night, according to reports by the Syrian Observatory for Human Rights. The regime outpost in Jabal Al-Mane' was reportedly hit by three missiles, resulting in damage to the site.
The report was also quoted in the Saudi owned Al-Arabiya TV station, but the Assad regime has yet to release an official statement. Hezbollah-owned TV station Al-Manar refuted the claims of a strike.
There have been occasional reports of Israeli airstrikes in Syria by Arabic media, the last time being last December, when Hezbollah operative Samir Kuntar was assasinated in an attack attributed to Israel.
Prime Minister Benjamin Netanyahu said several weeks before the alleged assasination that Israel does sometimes conduct operations in Syria, saying "we operate in Syria periodically in order to mitigate the threat of Syria being turned into a another front against Israel."
He continued, "We are working against the opening of an additional terror front that Iran is trying to open on the Golan, and in order to mitigate the transfer of deadly weapons from Syria to Lebanon. This is something which we will continue to do."
If it turns out that the IDF did in fact carry out strikes against Syrian targets over the last several months, it shows the significance of the coordination mechanism in place with Russia.