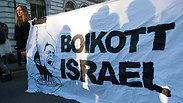 BDS in Sweden
Photo: Shutterstock
LONDON - The national student organization of Britain's Labour party has opened an investigation into allegations of anti-Semitis behavior among the members of Oxford University's Labour students club.
According to witnesses, members of the organization expressed support for Hamas and sang songs praising missile attacks on Tel Aviv, among other things.
Alex Chalmers, the co-chairman of the Oxford Labuor club, resigned from his position earlier this week after he declared that a "large proportion" of the group "have some kind of problem with Jews" and "intolerant tendencies."
He decided to resign after the club decided to endorce the "Israel Apartheid Week," which will take place next week on European college campuses.
"The Labour party student group's decision to support Apartheid Week, which has a history of targeting and harassing Jewish students and inviting anti-Semitic speakers, despite the fears of Jewish students, shows how distorted and deceptive the group is," Chalmers wrote on his Facebook page.
"Despite its avowed commitment to liberation, the attitudes of certain members of the club towards certain disadvantaged groups was becoming poisonous. Whether it be members of the Executive throwing around the term 'Zio' (a term for Jews usually confined to websites run by the Ku Klux Klan) with casual abandon, senior members of the club expressing their 'solidarity' with Hamas and explicitly defending their tactics of indiscriminately murdering civilians, or a former Co-Chair claiming that 'most accusations of anti-Semitism are just the Zionists crying wolf,' a large proportion of both OULC and the student left in Oxford more generally have some kind of problem with Jews," Chalmers went on to say.
Jewish students at Oxford claim that the ties between the pro-Palestinian organizations and anti-Semitism is nothing new.
"When anti-Semitism intersects with Palestinian solidarity politics, it is not the job of Jewish students to be quiet, but the job of Palestinian solidarity activists to rid their movement of anti-Jewish prejudice," said the Oxford University Jewish Society.
A Labour party spokeswoman said in light of the reports: "Following recent allegations of Anti-Semitic behavior and intimidation at Oxford University Labour Club, Labour Students have launched an immediate investigation and the Labour party welcomes and supports this action. If complaints are made about any individual member of the Labour party, the party will take robust action to deal with any anti-Semitic behavior."
These accusations have caused great embarrassment for the Labour party, which currently leads the opposition. Party chairman Jeremy Corbyn, who is known for his strong support of Hamas and Hezbollah, has recently made efforts to mitigate criticism leveled him and his party. This affair will certainly not help him in that endeavor.
Earlier this week, new British government guidelines went into effect barring municipalities, universities, and government institutions from boycotting Israel. British Minister Matthew Hancock, who visited Israel this week, warned that "public institutions that violate the ban will be fined heavily."
However, the British government has made it clear that it will continue to support labeling settlement products "To allow consumers to make informed decisions before making a purchase."