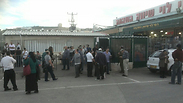 Two 14-year-old Palestinians carried out a stabbing attack Thursday afternoon in the Sha'ar Binyamin Industrial Zone north of Jerusalem. Sgt. Tuvia Yanai Weissman, 21, was killed and a 36-year-old Israeli civilian was moderately wounded.
The two Palestinain youths entered a Rami Levi supermarket and stabbed the two Israelis. Shoppers there pushed the terrorists back with shopping carts and a civilian at the scene then shot them, seriously wounding them. One of the terrorists later succumbed to his wounds.
Weismann, a resident of Ma'ale Mikhmas in the Binyamin region of the West Bank, was married and was the father of a four-month-old baby. He was a soldier in the 50th Battalion of the Nahal Brigade, but was in civilian clothes when he was murdered.
Terrorists at the supermarket
Witnesses say that the terrorists were hanging around the area for about 40 minutes prior to attacking. The attackers, Umar Rimawi and Iham Sabah, are from Beitunia near Ramallah.
The civilian who shot the terrorists recounted that he "entered the store and heard screams. I spotted one of the terrorists and shot him. There were soldiers and civilians there."
The 36-year-old was sent to Hadassah Medical Center in Jerusalem, while Weissman was taken to Shaare Zedek Medical Center in Jerusalem, where he died of his wounds.
Elisha Ben Kimon, Yoav Zitun, Yael Friedson, Itamar Eichner and Elior Levy contributed to this report.