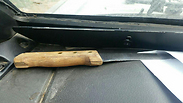 Knife used by 14-year-old Palestinian attacker
Three terror attacks thwarted in West Bank
17-year-old girl arrested at Tapuach Junction with knife, admits to planning attack; 14-year-old arrested near Bani Naim after trying to stab soldiers; another attacker in Tapuach Junction shot and killed while attempting stabbing attack; none hurt on Israeli side.
Israeli security forces stopped three terror attacks on Sunday morning. No Israeli troops were hurt in any of the incidents.

Around 8:30am, a 17-year-old Palestinian girl arrived at the Tapuach Junction with a knife in her possession. She was stopped by troops stationed at the roadbloack.

In initial questioning, the girl admitted that she planned to commit an attack after watching inciting videos on social media. The Kutzra resident was arrested and taken for further questioning.

Three hours later, a 14-year-old Palestinian boy from the village of Bani Naim, close to Hebron, tried to open the door of an army vehicle and stab one of the soldiers inside. The troops overpowered and handcuffed him without opening fire.

Several minutes later, another attacker tried to stab soldiers near the Tapuach Junction. He was shot and seriously wounded, and later succumbed to his wounds.

On Saturday night, a stabbing attack was thwarted near the Damascus Gate in Jerusalem - the ninth attack there over the past three weeks.