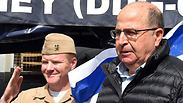 Ya'alon on the USS Carney
Photo: Defense Ministry
Defense Minister Moshe Ya'alon said Monday Israel was preparing for the possibility of another war against Hamas in Gaza.

"We've been enjoying unprecedented quiet, Hamas hasn't fired one bullet," Ya'alon said aboard the USS Carney, an American destroyer, which is currently docking in Haifa while taking part in the joint American-Israeli military exercise Juniper Cobra.

"It's growing in power, we didn't think otherwise," he added. "Hamas is trying to arm itself with rockets but it's having difficulties importing (rockets) as it did before and it has to manufacture them. That is why they're conducting all of the tests of firing rockets into the sea. There is also a shortage of materials to manufacture rockets with and they're trying to improvise - and of course digging defensive and offensive tunnels, we are not fooling ourselves to think that they aren't."

"We've been preparing for the possibility that at some point a front will be opened in the south, and we'll have to deal with it," the defense minister continued. "We're not stagnate and we operate both with defensive and offensive measures."

US Ambassador to Israel Dan Shapiro, who hosted Ya'alon aboard the USS Carney, noted that Israel and the US have been "working together to develop technological measures to discover and destroy tunnels, and Congress has approved a special budget which led to progress in the development work."

"The USS Carney's participation in the drill is just another example for the very deep and very important ties between the United States and Israel. This is a drill dealing with defending the State of Israel from rockets and missiles," Shapiro continued.

Ya'alon also talked about Israel's freedom to act outside its borders, particularly in relation to the civil war raging in Syria. He stated Israel was only interested in defending itself. "We do not get involved in the conflicts in Lebanon, Syria, Yemen or other places, we just protect our interests. Both the US and Russia - who are both operating in Syria right now - know this, and our freedom of activity to protect our interests is being kept."

A defense official said Monday that "when we find a tunnel that crosses into Israel, everyone will know, the Palestinians as well."

He noted that the "level of preparedness of their tunnels is not like what it was before Protective Edge. They can't smuggle (weapons), and the Iranian axis - which used to be their main source for contraband - has dried out. Since Klos C, there hasn't been an attempt to smuggle arms from Iran."