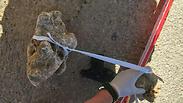 Stabbing attack at Gush Etzion Junction
A 30-year-old Reserves Captain Eliav Gelman was killed Wednesday afternoon by gunfire targeting a terrorist who attemped a stabbing attack at the Gush Etzion Junction south of Jerusalem.
Gelman's brother is married to the sister of soldier Benaya Sarel, who was killed during Operation Protective Edge.
Eyal Gelman, the deceased's brother and Kiryat Arba's security guard, eulogized him. "My brother fell in battle," he said. "In a battle that we have known for a long time. But the people of Israel have experienced the battles and the pogroms since the first battle in 1873. My brother, too – my dear brother – you entered this circle, the same silver tray that for 150 years this people, this revival generation continues to redeem the land of Israel and build the State of Israel. God have given and God has taken away, may the name of the Lord be blessed."
The terrorist, Mamduh Amru, a 27-year-old school teacher from the village of Dura south of Hebron, attempted to stab the officer at Gush Etzion Junction. Soldiers from the Haruv Battalion of the Kfir Brigade shot the terrorist and wounded the latter moderately.