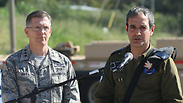 Brig-Gen. Tzvika Chaimovitch and General Timothy Ray
Over 3,000 troops -- 1,500 Israeli Air Force (IAF) officers and pilots, along with 1,700 American soldiers from the US European Command -- will on Sunday begin the main part of the Juniper Cobra 16 joint military exercise held every two years.

Most of the month-long exercise involves advanced computer simulations carried out in war rooms, except for a number of missile interception Israel will conduct towards the end.

Eight such exercises have been held since 2001. This year, David's Sling interceptors are to participate in addition to the Iron Dome and Arrow 2 systems for the first time. David's Sling, designed to act as a layer of protection that fills a gap between Iron Dome and Arrow 2, will intercept medium- to long-range rockets, and is supposed to become operational in the coming year.

Juniper Cobra 16 joint US-Israeli exercise (צילום: דו"צ)

The Americans have brought with them their advanced air defense systems - the THAAD, the Aegis and the Patriot interceptors. The IAF refused to elaborate on the scenarios being simulated, but noted that all potential threats are being taken into account. Among these are Hamas's and Hezbollah's rockets and missiles, heavy mortar bombs, long-range rockets, precision missiles stationed in southern Lebanon, hundreds of drones in the Gaza Strip and Iran's Shahab ballistic missiles.

Juniper Cobra constitutes a significant element of the US's operational military assistance to Israel, in the event that Israel requests it. The last time such assistance was requested was during the Gulf War, when Patriot batteries were brought for protection against Iraqi Scud missiles. The US Army intends to place infrastructure in the country for upcoming joint exercises and in order to improve its ability to operate in Israel should the need arise.

"The exercise's planning, implementation and management is carried out mutually, shoulder to shoulder," a senior IAF officer said Thursday. "I do not of know many joint exercises the IDF takes part in with this level of intimacy. High-trajectory weapons have become the main vector of our enemies' war strategy in the north and south and many efforts are being invested in their development.

"Future scenarios will be more complex that those we saw in Operation Protective Edge and the Second Lebanon War," said the officer. "Even if we doubled the number of interception systems, the protection would not be hermetic and missiles and rockets would still fall in Israeli territory. Our job is to minimize the damage as much as possible, to protect our most significant assets. After what we saw in Protective Edge, if the next war is on two fronts - it will be a completely different story," he added.

A senior US Air Force officer said that "there is a need to make sure our abilities and technologies are adapted to the changing threats. The Israeli teams have impressed me with their concentration on detail and connection between weapons and mission - protecting the citizens of Israel."