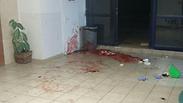 A security guard, 48, was critically wounded in an ax attack at a mall in Ma'ale Adumim in overnight Thursday.

The terrorist escaped, and a bloody ax believed to have been used in the attack was found along the route he is belived to have taken.

The security guard was unarmed, and police are now looking into the mall's security policy.

At approximately 1:15am, police received a report of a man who had been stabbed at a mall in the city. A large number of police forces converged on the scene, where they spotted the security guard lying on the ground with multiple slash wounds.

Magen David Adom paramedics provided the guard with medical assistance, and evacuated him to Hadassah Medical Center in Jerusalem's Ein Karem, where he arrived unconscious and on a respirator, with wounds all over his upper body. He was taken into the operation room, where doctors are still fighting to save his life.

According to an initial investigation, the attack appears to be nationalistically motivated.

Large police and Border Police forces are searching for the perpetrator, while security forces decided to bar the entry of Palestinian workers into the city until Sunday.




The Police Commander of the Judea and Samaria district, Nitzav Shlomi Michael said "we are talking about a terrible event. We will do everything we can to get our hands on the perpetrator."

The mayor of Ma'ale Adumim, Benny Kashriel, said that according to the findings on the ground, the terrorist attacked the security guard with an ax.

"We have increased security and patrols. Ma'ale Adumim has been quiet during all of the intifadas, during Protective Edge, and even during this recent wave of terror there hasn't been a single incident here, so this attack hurts a lot. We really hope that we will be secure again. We work together and have good relations with our neighbors," he said.