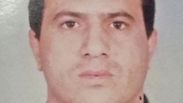 Wanted terrorist Omar Nayef Zayed was found dead at the Palestinian embassy in Bulgaria, local media reported on Friday morning.

Popular Front for the Liberation of Palestine (PFLP) member Zayed, 51, was convicted along with his brother and another Palestinian of the murder of yeshiva student Eliyahu Amadi at Jerusalem's Old City in 1986, when he was 22 years old.

He was sentenced to life in prison, and four years later went on a hunger strike. After 40 days he was transferred to a mental hospital in Bethlehem to receive treatment. Then, in May 1990, he managed to escape the hospital and hide until he was able to flee Israel to Arab countries - where he lived until 1994, when he settled in Bulgaria. The 51 years old, originally from the Palestinian village of Al-Yamun near Jenin in the West Bank, got married in Bulgaria and had three children, all Bulgarian nationals.

His brother, Ahmed Zayed, and the other Palestinian were among those released in a 2011 prisoner exchange deal for IDF soldier Gilad Shalit, who had been held by Hamas in Gaza for five years.

Zayed arrived at the Palestinian embassy in Bulgaria two months ago after learning he was wanted by Bulgarian police after Israel demanded Sofia to extradite him in December. Bulgarian police even raided his home, but arrived after he had left it.

According to Palestinian sources, after receiving Israel's extradition request for Zayed, Bulgarian authorities sought to detain him for 72 hours in order to deliberate on the request, but he escaped to the embassy before they could get to him.

Bulgarian authorities then set Zayed an ultimatum to force him out of the embassy, but he refused. Meanwhile, Israel was holding a quiet dialogue with Sofia in an effort to bring the affair to an end.

Palestinian Ambassador to Bulgaria Ahmad Madbough set Zayed an ultimatum of his own, giving him 24 hours to turn himself in to Bulgarian authorities - to no avail.

His brother, Hamza, said Zayed would not turn himself in or leave the embassy building because he was tortured and beaten in Israeli prison and was put in isolation for 60 days.

Bulgarian news websites reported that at 7:35am Friday, emergency services received a call to the embassy for a man seeking urgent medical treatment. Zayed, who was found at the embassy's back yard with critical injuries to his upper body, was rushed to a local hospital in Sofia, where was declared dead.

On Friday, Bulgaria's chief prosecutor Sotir Tsatsarov told reporters there was evidence Nayef had been living at the embassy. He also said Nayef had been alive when medics arrived at the embassy but died later.

The Palestinian deputy foreign minister, Tayseer Jaradat, said Zayed was not killed from the shooting in his direction, while PFLP claimed he was shot in the head. One of the reports in Bulgarian media claimed Zayed was pushed to his death from the fourth floor of the building. The Palestinian ambassador granted access to investigators, who sealed off the embassy building.

Prosecutors said in an initial statement they had been alerted by a representative of the Palestinian mission in Bulgaria "about a man who died as a result of violence" but a spokeswoman for the prosecutors later said no signs of violence were found on his body.

Official Palestinian news agency WAFA reported that Palestinian President Mahmoud Abbas had ordered an investigation into the circumstances of Nayef's death.

"The president has condemned the crime in the strongest terms possible and has ordered the members of the (investigation) committee to travel immediately to Bulgaria to discover what happened," WAFA said.

Abbas's spokesman Nabil Abu Rdainah said the presidency would pursue the issue with Bulgarian authorities.

While Abbas avoided pointing the finger at Israel, PFLP and the head of the Palestinian Prisoners Club and former minister Issa Karaka, did blame Israel for Zayed's death.

It's safe to assume, however, that the Palestinian claim the Mossad is behind Zayed's death is baseless. Israel would not dare get entangled with an assassination after filing an official request for his extradition, and certainly not while Bulgarian Prime Minister Boyko Borissov is in Israel on a work trip, during which he met with Prime Minister Benjamin Netanyahu and President Reuven Rivlin.

Borisov, who returned from Israel late on Thursday, said Nayef's extradition had been brought up in meetings by both the Palestinian and Israeli authorities.

"I told both sides that Bulgaria respects the rule of law and will follow the legal procedures in the case," he told reporters in parliament on Friday.

Sources involved in the affair said "there is no connection to Israel." They claimed it was more likely that Zayed angered Palestinian or local authorities.

Israel's Foreign Ministry said that although Israel had asked for his extradition, it learned of his death in the media and is currently studying the information.

Recently, Jenin governor Ibrahim Ramadan sent a letter to the Palestinian ambassador in Bulgaria, asking him to provide Zayed with any help he needs because of what he called pressure from Israel on the Bulgarian government to force the embassy to turn him in to local authorities.

PFLP members have also recently demanded members of the Eurpean Union's parliament to provide Zayed with protection.

Reuters and the Associated Press contributed to this report.