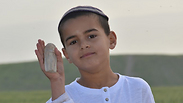 Ori Greenhut
Photo: Moriya Greenhut
A seven-year-old child recently discovered an ancient female figurine at the Tel Rehov archeological site in northern Israel. The figurine is estimated to be one of the Teraphim, idolatrous statues used during Biblical times.

Ori Greenhut, from the community of Tel Teomim, went on a hike with friends at the beginning of the week accompanied by the father of one of his friends. While climbing the archeological mound in Tel Rehov, Ori came across a stone that had been moved and suddenly saw a small figure covered in mud. He scraped off the mud and discovered the clay figurine.

"Ori came home with an impressive figurine and it was really exciting," said Moriya Greenhut, Ori's mother. "We explained to him that it is an antiquity and that the Antiquities Authority keeps the findings for the benefit of the general public."

The Greenhut family gave the figurine to the Israel Antiquities Authority (IAA), and IAA representatives came to Ori's school at Kibbutz Sde Eliyahu to award him a certificate of appreciation for his good citizenship. They also informed the class of details about the figurine, which depicts a naked woman and was made by pressing soft silt into a mold.

"It was incredible," said Ori's teacher. "The archeologists came into the class during a Torah lesson in which we had just learned about the Teraphim, statues that were used at the time for pagan idolatry. I suddenly understood that one of these Teraphim was here in the class with us!"

Hebrew University Professor Amihai Mazar, who directs the Tel Rehov excavation expedition, studied the figurine and concluded that it is approximately 3,400 years old and "typical of Canaanite culture between the 15th and 13th centuries BCE."

"Some researchers believe the figurine depicts a mortal woman while others think it is a depiction of the fertility goddess Ashtoreth, known from the Bible and from Canaanite sources," added Prof. Mazar. "There is a good chance that the term Teraphim in the Torah indeed refers to this kind of figurine."

"The figurine seems to have belonged to one of the residents of the ancient city of Rehov, which had then been ruled by the pharaohs of ancient Egypt," he added.