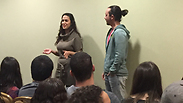 Shir and Yitzhak
Photo: StandWithUs
A group of BDS supporters disrupted a lecture by two Israeli students at the University of South Florida earlier this week.

One of the protesters was Tariq Abu Khdeir, who was beat up by Israeli police officers when he was 15, and whose cousin Mohammed Abu Khdeir was murdered by extremist right-wing Jews in 2014.

The Israeli students, Shir and Yitzhak, gave a lecture to American students on behalf of StandWithUs, an organization working for Israeli hasbara (public relations) abroad, in order to "present the humane side of the IDF."

During the lecture on Wednesday, some 25 supporters of the boycotts, divestment and sanctions campaign against Israel entered the lecture hall waving Palestinian flags and banners, interrupted the lecturers, and shouted at them.

BDS supporters disrupt StandWithUs lecture (קרדיט: stand with us)

"As part of the organization's (StandWithUs) program, IDF reservists go abroad and tell their personal stories," said Shir, a student of Political Science and Communications at Tel Aviv University, who served in Military Intelligence.

"When we got to the University of South Florida, we encountered serious disturbances. Two minutes after I started talking, the Palestinian activists got up and left, and then came in again, and left again. They tried to interrupt us in whatever way they could. They came in with Palestinian flags and banners. They had no interest in having a dialogue with us."

Yitzhak, a civil engineering student at the Technion, added: "They had no interest in listening to us. They didn't stop going out and coming back in, in an effort to interrupt, and when one person got up during the Q&A and started with 'I respect you,' one of the activists called out 'How dare you say this?' and shouted at us, telling us we're murderers and child killers. Police forces that were there had to take him out.

"Later, another person got up and asked us if we recognized him. We didn't. The activists then presented a large photo of him after he was beaten. That activist was Tariq Abu Khdeir, and the photo was of him after he was beaten by the Israel Police."

Abu Khdeir, who lives in the US, was 15 years on when he came to visit relatives in the Shuafat neighborhood in Jerusalem and beaten by police during detention.

"We told him we were sorry for what he went through, and that we were sure whoever did this received the punishment they deserved, because Israel is a democratic state. In addition, we told him it was a shame he didn't hear our story, too, and that there are people murdered by terrorists every day on the Israeli side, and that what happened to him was not a good representation of the situation in Israel. After that, the conversation turned very violent," Yitzhak said.

Shir added that "When we left and walked to the cars, they waited for us outside. A group of people holding banners and flags and shouting at us: 'Murderers, immoral, terrorists, how do you sleep at night?' Police had to escort us to the car."