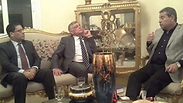 שגריר ישראל ב מצרים חיים קורן תופיק עוכאשה
Egyptian parliamentarian and TV personality Tawfiq Okasha caused a firestorm last week he invited Israeli Ambassador to Cairo, Haim Koren, to his house for dinner on his TV program. His fellow Egyptian parliamentarians have called for him to be ousted and described him as a "traitor" and a "collaborator" with Israel.

Okasha released photos of the extraordinary meeting with the Israeli ambassador, prompting even more criticism.

However, Okasha has not backtracked. "I recognize the State of Israel and all of our agreements are consistent with my world view," he told Egyptian newspaper Al-Tahrir. He also said he may meet with Prime Minister Benjamin Netanyahu soon, quite possibly in the next two weeks.

A major Egyptian pundit harshly criticized Okasha: "Forget about traveling to Israel to meet your friend Netanyahu." He also asked Okasha's constituents and any Egyptian who see him on the street "to spit in his face."

Mustafa Bakri, an Egyptian journalist leading the anti-Okasha campaign tweeted that "Tawfiq Okasha welcoming the enemy Israeli ambassador at his house is a scandal, without exception."

He added that "the Camp David Accords are no excuse for him and others like him to meet with the Zionist ambassador while ignoring the blood of those slain in the homeland and Islamic nation." Bakri, who is now a highly coveted interview subject, also accused Okasha of planning to visit Israel. However, an Egyptian news outlet has already published photos of Okasha and his program's team visiting Israel.

According to the Egyptian media, 100 parliamentarians have asked the speaker of the parliament, Dr. Ali Abdel-Al, to expel Okasha from parliament.

Mahmoud Badr, an Egyptian parliamentarian said, "He belongs not in the Egyptian parliament, but rather in the Friends of Israel Union or in the Knesset."

Samir Sabri, an Egyptian lawyer, has filed an official complaint with the Egyptian attorney general for state security. He demanded that the state strip Okasha of his parliamentary immunity, bar him from leaving Egypt, and hold him on trial for collaborating with a foreign nation.

The Egyptian press has been investigating Okasha's past. One report claimed that his uncle, an Egyptian officer, was executed for spying for Israel. It appears that the controversy over Okasha will not die down anytime soon.