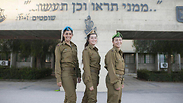 Closing ceremony for officers' course,which included 20 new female combat officers
Photo: IDF Spokesperson
Meet the IDF's new female combat officers
Of the 360 soldiers in the graduating class of the most recent IDF combat officers' course, 20 are women; 6 are combatants and 14 are involved in surveillance. They say they didn't receive any special treatment from their commanders or fellow soldiers during the course, and recommended that every girl follow their path.
360 combat soldiers marched excitedly onto the parade grounds of Bahad 1 (site of the IDF's officer training school) to officially become combat officers, after completing their grueling eight-month course. Of the hundreds of candidates, one could easily pick out the faces of the 20 women – of which six will be combat officers, and 14 will be surveillance officers.
Their small number indicates that even today, 20 years after the High Court's famous decision in the Alice Miller case (in which the HCJ ruled that women should not be excluded from IAF pilot courses on the base of gender), women's participation - specifically as officers - in IDF infantry divisions should not be taken for granted. In the past few years, there has been an increase in the number of women who volunteer for combat duty, although it requires them to serve for the same amount of time as men (In the IDF, men serve for three years, while women typically serve for two).
The IDF's first mixed gender infantry battalion, Caracal, was created over a decade ago, and has since been joined by three more mixed-gender battalions. The most recent mixed gender battalion to be formed is the "Bardelas" (Cheetah) battalion, which was formed six months ago. The combat battalion is growing, and more and more units are being established.
Immediately following the ceremony, Ynet met with three of the six women going into combat units. Second Lieutenant Ophir Eyal is the first female officer in the first all-female drone unit in the Artillery Corps. Her unit will operate drones on the front lines in order to give real-time targeting information to artillery troops stationed miles away. Eyal previously served as a drill instructor, but switched to the role of a combat soldier in order to go into the officer's course, where she was the only female officer candidate from the Artillery Corps.
Second Lieutenant Noy Magnezi was a combat soldier in the Caracal Battalion, and will be a commander in the new Bardlas battalion. Together with her in the course were two other future Bardelas commanders.
Second Lieutenant May Cohen will be an officer in the Combat Intelligence Collection Corps. She is one of two soldiers from that corps to graduate in this class of the course.
When asked if they felt their commanders treated them any differently during the course, all three replied "no." After thinking for a moment, Ophir said, "the only thing that might have been different was that they could carry a bit more weight. In my unit, we are supposed to carry a drone on our backs, but women are not suited for that because the drone weighs almost as much as the woman herself. The only thing that was different were the things that we physically couldn't do."
Did the other soldiers in your unit act differently towards you?
Noy: "For me, the other soldiers weren't used to having a woman with them, so in the beginning they didn't really know what to do with us, and it was hard for them. They watched us out of the corners of their eyes to see what we were able to do and what we weren't able to do. As time went on, they came to realize that we can do everything they can do – they didn't shorten the lengths of the treks we had to do, and they didn't reduce the weight we had to carry. It simply took them a little while to understand it."
Did you feel you had to prove yourselves more because you're women?
May: "Yes, I felt that I needed to prove I could do everything the male soldiers could do. For instance, if there was something that weighed a lot, the guys would immediately say 'we're taking this, you can't carry it,' so I had to prove myself in other ways. I felt like an equal in my unit in the course, but I still felt like I needed to give more."
Ophir, who was the only woman in her Artillery Corps course, said that there were times when she felt alone. "It manifested, for instance, when sleeping in the field. The men would 'spoon' in their sleeping bags, and I was apart from them with my sleeping bag. Or when we return to the base and everyone were having fun together on Friday, and they come back and joke around in their room, I come back alone to an empty one. But nothing in how they made me feel caused me to feel lonely. They really gave me a feeling of being part of them, I didn't feel like I was outside their circle."
Why are there still so few female officers in combat?
Ophir: "It's only a matter of time. There is more awareness of field intelligence, they're opening more combat battalions, and even within the Artillery Corps, they're creating more positions. A lot of women have to go through some sort of process, and it's not an easy decision. The three of us can say that this path challenges you and takes you to your limits."
What would you say to young girls who are debating whether or not to go into combat units?
May: "Every job is important and every job contributes to the system called the IDF. But for those who are interested in the field and want to experience something a little different from the routine, this is the place."
Ophir: "I think that if you're not very sure of yourself, this will do you well, because the combat track really builds up personal independence and maturity. The physical and mental difficulties you will experience here positively influence you, and will change your life."
.