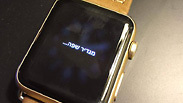 The conference room where Johny Srouji meets us overlooks the landscape of the hi-tech buildings of Herzliya Pituach. Laid out on the white table, as if in an intricate military ceremony, are the most glittering gadgets Apple released last year: iPhone 6s, iPhone 6s Plus, iPad Pro and the new MacBook computer - aligned side by side, spaced accurately.
Steve Jobs, Apple's late founder, who was known for his obsessive zeal for aesthetics, would probably be proud. "Apple's core values dating from Jobs' period remain unchanged to this day," Srouji tells us. "Value number one at Apple is to provide customers with products that enrich their lives, and the best way to do this is by using a beautiful design, the best hardware and the best software. We possess mastery over all these areas, thus providing the best experience. This is what makes us unique."
Although Srouji, an international expert in advanced technologies, is virtually unknown in Israel, he is one of the most influential Israeli executives in the global technology industry. Last December, he was promoted to senior vice president of hardware technologies at Apple. The meaning of this title is membership in Apple's highest administrative ranks - an honor reserved for ten people only, including the legendary super-designer Jonathan Ive and director of global marketing Philip Schiller. Besides, Srouji is also responsible for the establishment of Apple's development center in Israel.
At the end of 2011, Apple - under the leadership of Tim Cook, who replaced Steve Jobs as CEO following his illness - secretly decided to set up a hardware development center in Israel. This was rooted in the company's strategic decision to start independently developing hardware and chipsets for its own mobile phones, eschewing the reliance on other manufacturers that is customary in the industry. To that end, Apple had to expand its hardware engineering program and identify knowledge centers outside the United States. It was Srouji who brought Israel to the attention of Apple's management.
"We had hardware development centers in Cupertino and Austin, and came to the conclusion that Israel has a foundation of technological expertise thanks to its many universities and startups. We saw that there was innovation, ideas and capabilities," Srouji says in the first exclusive interview he gave to Israeli media.
"When Steve was the CEO, he greatly supported the idea of setting up a research and development center in Israel," continues Srouji. "Tim Cook, who replaced him, is also very supportive of the center and technologies we developed in Israel. He even visited here last February, which indicates how much enthusiastic he is on the subject."
At almost the same time as that decision, Apple made its first purchase of an Israeli start-up: Anobit, in Herzliya, which was purchased for an estimated $400 million. "We decided to purchase Anobit because we found it had the expertise and technology we wanted," Srouji says.
The next task, and perhaps the most important one , was to find a director for the development's center. "The first thing you need when setting up a new development center is a good manager with the necessary skills and cultural fit," explains Srugi. Aharon Aharo, an esteemed veteran manager in the chip industry, was chosen for the prestigious post. The two knew each other well, as Aharon was Srouji's professor at the Israel Institute of Technology. "He is a very talented person with outstanding capabilities," says Srouji. "I knew him and his personality and knew he would suit us very well."
Laughing with employees
And so, almost under the media's radar, Apple began investing in Israel. The company reveals to us the first time that it has so far invested a huge sum of $1.2 billion and employs 800 locals, most of them hardware and software engineers, 400 of whom were recruited in the last two years alone. Apple also acquired two other companies for hundreds of millions of dollars, and a year ago opened a magificent office building in Herzliya Pituach, as well as a branch that occupies several floors in Haifa. It continues to eagerly recruit employees according to its evolving needs.
If the high-tech nation needed additional reinforcement to what is already said about the Israeli engineer's mind, it received that ultimate confirmation. When a company as esteemed as Apple opens its first hardware development center in Israel, it is not only a cause for pride, but also a step of immense economic value to the Israeli economy and the high tech industry in general - certainly if Apple continues to expand its operations here in the future, as it declares explicitly.
So how is it possible that many Israelis did not even hear about Apple's development activities in Israel? The answer is, of course, the company's policy of secrecy, made in Steve Jobs' image. CEO Tim Cook recently admitted in an interview with US TV show "60 Minutes" that "Apple is more secretive than the CIA". He's not kidding: the company has been in Israe since March 2012 and only this month gave journalists a glimpse into its inner sanctum and allowed its senior ranks to be interviewed by the Israeli media.
Apple Israel CEO Aharon Aharon, warm and unpretentious, takes us on a tour in the shiny new building in Herzliya, which seems like a product that envisioned by one of the company's designers: the dominant colors in the corridors, offices and in the cubicles are white and clear. Scribbled diagrams and equations can be seen an some of the transparent partitions, but beyond that the working areas are arranged in perfect order, evoking almost a sterile feel. On the walls hang giant close-up photos, almost erotic, of iPhones, Apple iPads and Apple watches.
Employees sit in "neighborhoods". "Each neighborhood has a set of four cubicles. Just like the company's gadget designs, the cubicle design is not accidental at Apple. They were planned after a long and rigorous process, which included the establishment of mock cubicles designed to test, for example, the optimal height of the partitions that separate them - low enough to encourage collaboration, but tall enough to maintain privacy and quiet. Plants were incorporated at the top of the cubicles, breaking the dominant white color.
Apple is very proud of its environmental values. One side of the building's central space is actually a huge wall, 20 meters in height, of living vegetation. This wall is a challenge for local gardeners, and requires a unique treatment method. At the center of the space is a giant screen, which is used among other things for public displays of famous Apple product launches launches. Above it hang tall bridges with glass flooring connecting the two parallel parts of the complex.
The building was constructed by the Gav-Yam company and was designed and planned by Yashar Architects. The interior design, bridges and the green wall were supervised by Grynhaus Architects. All of these worked, of course, under close supervision by Apple.
Even as a senior staff member in the discreet American corporate giant, Aharon seems like the most Israeli CEO there could be. When we walk in, he greets the young employees who pass him with their first names, asks about their well-being, and exchanges friendly jabs with them. "Our standards are very high," he says. "We are always looking for the best engineers, and usually we succeed. The population here is usually very good. Gestures toward a group of amused employees, he says, "well, except for those three guys. " The three burst into laughter.
Deepest secrets
Now, don't get confused. If your iPhone malfunctions, you should not rush over to Herzliya and demand a refund from Aharon Aharon. Apple's activity in Israel has so far centered on hardware engineering and technology development. It does not itself deal with retail sales and marketing itself, but rather uses local distributors. This gap is a tad frustrating: on the one hand, the company is investing capital, employs hundreds of ,and considers Israel a strategic base. On the other hand, it didn't bother opening an official Apple store in Israel, and product launches are carried out with irritating tardiness.
In Apple's development centers in Herzliya and Haifa, teams work on a variety of hardware technologies for its various devices: storage, chips, cameras, and wireless communication. In other words, Apple Israel's employees actually work on the internal organs of iPhones, iPads, iMacs, and watches. "Pick almost any Apple device and you'll find something we do," says Aharon. "We fill a very strategic place for Apple."
One ramification of this fact is that Aharon and his men are exposed, several months before the rest of the world ,to the innermost secrets of Apple - the next devices it plans to launch. "We have been working here on products that are designed to be announced only from 2017 to 2018," he says.
And these devices, which any gadget fan would kill to see, are located here in Herzliya, in the laboratories on the first floor, a few feet away from us, well-hidden behind a black curtain.
"The curtain is there for us," we guess. Aharon laughed: "No, no, its always there."
The Israeli team, it turns out, plays a particularly significant role in the planning and development of storage components, such as the iPhone's memory - where the music files, images and messages are stored. Yes, Apple Israel is already working on storage components for the next iPhone, which will be launched probably in fall 2016.
Apple says that the storage elements are particularly important for creating a good user experience: for example, to make it possible to shoot a rapid sequence of images on an iPhone, without delays, and that the information stored in its memory will be kept for years and not damaged.
We tour the laboratories where the company's engineers test the sensitive components for their longevity and reliability. Among other things, they use special ovens where they speed up the process of erosion of memory components and bring them to the brink of their useful life in order to test their durability.
Not ostentatious
"One of the greatest things we do at Apple is that we make everything simple," Sruji tells us later, in the conference room with the array of iPhones and iPads. "For the user, this experience is very simple: push a button and take pictures. Behind the scenes, there are many complex and advanced technological operations, but we do not want our customers to think of this complexity. We do it for them. And one of the things I learned that it can be the hardest thing to make something simple. "
Are you going to continue to acquire companies in Israel and expand activities in Israel?
"I cannot answer that, because all information about the acquisitions we will make in the future we keep to ourselves, and I'm not necessarily saying we will make additional purchases. However, we are continuing to recruit employees, including in Israel, and we are committed to the development center in Israel."
Although the subject is obviously close to his heart, Srouji refuses to answer questions concerning ways to boost Arab integration in the Israeli high tech industry. "The question should be referred to the government," he says.
Apple is known as a coveted employer, even though the benefits it provides to its employees are not astounding, compared to companies like Google or Facebook. Here you will not find slides, citrus trees in corridors, or elaborate rooms. The story goes that a very brave Apple employee once dared to ask Steve Jobs why Apple has such modest benefits. "My job is to cause the share to climb, so you have money to buy yourself all these things," the boss replied.
But don't worry about Apple employees. The wages are generous, not to mention the options. They are definitely not hungry. The nerve center of the building in Herzliya is Caffe Mac, a branch of the network of cafes located in every branch of the company worldwide. Six hundred chef meals are made here every day. A variety of foods can be found here, from chicken skewers to carefully crafted sushi. The meals, incidentally, are not free but cost around NIS 30 per meal. But again, concern over the Apple engineers' wallets is unnecessary. Each month they receive a food stipend in their salary, an amount that they can choose to spend at the cafeteria or one of the restaurants in the area.
New employees who join Apple will have to pass first through Apple University. Yes, it is quite real. This is an initiative of Steve Jobs designed to introduce to new recruits Apple's unique work culture. At the university, which is a more extended version of an orientation day used in many organizations, employees learn the history of the company, its work processes, product design phases, the approach for solving problems and sharing ideas, and more.
In addition, workers have to thoroughly memorize the company's secrecy policy. They must not disclose information about their work to anyone outside the company and sometimes even to friends who work on other projects. Apple earned its reputation of keeping strict secrecy, which even compmartmentalize its own employees according to the principle that everyone gets only the information he or she needs.
Or maybe it just seems that way from the outside. We meet with two other executives from the local delegation - Nabil Sakran, who runs Apple's Haifa branch, and Tal Inbal, director of the development team - and ask how hard is it for Israelis to deal with this rigid culture.
"It may seem like that from the outside, but I do not think that is true, "replies Inbal. "We get all the information we need to work on the product. There are no obstacles. Otherwise we could not work."
Sakran agrees: "It's true we do not know all the secrets of future products, but I do not think it is necessary to do our job. Every engineer gets all the access to information he or she needs. "
And what is it like to work at Apple? "I love the pace, "say Sakran."It is intense, but we are focused on output rather than the hours worked. We feel that here there is not too much bull and internal politics. We just do a good job."
According to Inbal, although Apple is one of the largest and richest companies in the world, it still feels like working in a startup. "In terms of dynamism and innovation, we actually feel part of a small group," he says. "And it fits Israeli culture. "