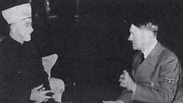 Al-Husseini and Hitler. PM Netanyahu's last mention of the Mufti caused controversy.
Prime Minister Benjamin Netanyahu mentioned the Mufti Amin al-Husseini Sunday night at a speech in Jerusalem, comparing Arab incitement of the 1920s to the incitement of the current terror wave.

During his speech at the Menachem Begin Heritage Center marking what would have been late former Prime Minister Yitzhak Shamir's 100th birthday, Netanyahu said that the "terrorism in the '20s, when my grandfather came to Israel, was also fed by the claim of Mufti Hajj Amin al-Husseini that the Jews were going to destroy the al-Aqsa mosque and build the third temple in its stead. Sound familiar to you?"

Last October, Netanyahu instigated controversy when he said, in a speech at the World Zionist Congress, that the Mufti inspired the Nazi final solution during a meeting with Adolf Hitler. According to that speech, Hitler intended on expelling the Jews from Europe rather than exterminating them, but his mind was changed, at least in part, by al-Husseini. After his words were widely condemned, the PM recanted.

This time, Netanyahu said, "the incitement is ongoing, and terror waves come and go, and the attempts to explain it with the despair and frustration of Palestinians are incorrect. That statement absolves them of responsibility for their actions, for their terror that has been accompanying us for almost 100 years, before the establishment of the state and before there were territories and settlements, when there was a diplomatic process and when there wasn't.

In addition, Netanyahu said that basic hostility towards Israel exists in different international organizations, but that a process of change was taking place, with many countries coming closer to Israel – both due to military power in the face of terrorist and Israel's technological power. Among the states mentioned were India, Argentina, and several African states.