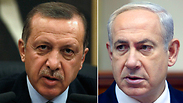 Erdogan and Netanyahu. A forthcoming agreement?
Photo: Mark Israel Salem, Reuters
Turkish newspaper Hürriyet reported Monday that Foreign Minister Mevlut Cavusoglu stated, in a cabinet meeting attended by President Erdogan, that the Israeli and Turkish governments were nearing a reconciliation agreement.

He added that "Israel and Turkey will publish a statement about this in the coming days."

The two countries have been negotiating fervently for the past few months, attempting to put behind them the enmity they've shared since the Mavi Marmara incident in mid-2010. Two weeks ago, a spokesperson for Turkish ruling party AKP spoke positively of the talks, but clarified that the sides had not yet reached an agreement.

Current Mossad Director Yossi Cohen was spotted traveling to Turkey in January, while he was still serving as a national security consultant, alongside Prime Minister Netanyahu's advisor for Turkish affairs Yossi Ciechanover. The two reportedly met with the Director Gerneral of the Turkish Foreign Ministry, coming to an understanding on several issues.

Another piece of evidence for the upcoming normalization of relations can be found in a recent meeting between Turkish President Erdogan and a delegation of 20 Jewish-American leaders at his Ankara palace. The delegation was led by Executive Vice Chairman of the Conference of Presidents of Major American Jewish Organizations Malcom Hoenlein, an associate of Israeli Prime Minister Benjamin Netanyahu.

It seems that some of the only topics still in dispute are the demands Turkey has made regarding the naval blockade of Gaza, and the Israeli demands regarding Hamas activity on Turkish soil.

Hamas commented on the Israeli-Turkish talks, stating they hope an agreement is signed. The terrorist organization claims that such normalization will allow a port to be built in Gaza. Coordinator of Government Activities in the Territories (COGAT) Maj.-Gen. Yoav Mordechai stated that there are no talks with Turkey regarding the establishment of a naval port in the Gaza Strip.

Defense Minister Moshe Ya'alon spoke of the possible reconciliation, saying, "We are prepared to reach a reconciliation, but we have our conditions. Turkey is hosting Hamas in Istanbul and we will not accept that. It supports Hamas generally. That must be discussed. They need to reach our conditions in order to reach a political arrangement."