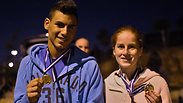 Despite the fact Jerusalem is in the midst of one of the more turbulent and difficult periods in recent years, there are residents from its western and eastern parts - Jews and Arabs alike - have decided to run together for peace.
A year ago, Israel Hess, 36, decided to start Running Without Borders with the help of Shoshana Ben-David, 18, who lives in the Arnona neighborhood in the capital.
"The idea came from a coincidental meeting between us. I learned that she started working on a running group for teenage girls, and I really loved the idea, and we decided to form an organization," Hess said.
"Over the past year, we started four mixed running groups that includes secular, Orthodox and religious Jews on the one hand, and Muslim and Christian Arabs from East Jerusalem and Beit Safafa on the other. There are also youth and adults who train together with professional trainers every week, and do team building activities," he added.
The runners can participate in all of the activities without charge, and also go to gatherings, film screenings and dinners, and do other joint activities.
"You'll see people from Shuafat run with people from the German Colony and Katamon. There are also two that come especially from one of the settlements every week, only to participate in this incredible thing. We prove that teenagers who are brought up to fear each other can be friends," Hess went on to say.
To raise money for the activities, which are done with almost no budget and no participation fee, Hess launched a crowdfunding campaign on the Headstart website, which recently ended.
After the great success of the Jerusalem group, another group was opened in Haifa, and soon a group will open to connect the residents of Tel Aviv and Jaffa.