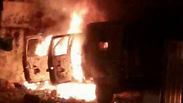 Soldiers' vehicle on fire
Two non-combat soldiers from the IDF's Oketz Unit came under attack after accidentally driving into the Qalandiya refugee camp on Monday night.
Palestinians hurled stones and Molotov cocktails at them, which set the army vehicle on fire. The two soldiers were able to escape the vehicle, but got separated.
IDF, Shin Bet and Special Forces swarmed into the camp in large numbers to search for the two soldiers, surrounding the camp, firing flash bang grenades into the air, with helicopters flying overhead.
The IDF was in contact with the two soldiers, as one of them hid in the yard of one of the houses. One of the soldiers was found 20 minutes later, and the other shortly before midnight after he was able to walk towards the settlement of Kokhav Ya'akov.
The two soldiers were unharmed and extracted from the camp.
Throughout the incident, troops exchanged fire with Palestinians in the camp, but none of the Israeli forces were harmed.