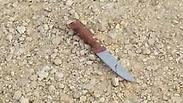 A knife, allegedly belonging to the attackers.
(Photo: Binyamin Spokesperson)
Reserve soldier attacked outside home
Roi Harel stepped outside his home in the West Bank settlement of Eli on his way to reserve duty, when he saw two terrorists outside his home, carrying clubs. They managed to lightly wound Harel, who fought back and then locked himself and his family inside their home. The attackers were found and killed a short while later by IDF soldiers.
Two terrorists infiltrated the settlement of Eli in the West Bank early Wednesday morning, and attacked a local resident at his doorstep with clubs. They ran away but were killed by security forces soon after.
Roi Harel recounted the incident: "I was stepping out of the house, going to reserve duty, at around 5:00am," Harel told Ynet. "I opened the door, and saw two terrorists with hatred and anger in their eyes. They attacked me with clubs and axes, and entered my home. After a couple of seconds I came to, and I ran after them as they had almost reached my children's bedrooms. I managed to push them outside the house and I locked my door."
Harel was lightly wounded in the attack, later being evacuated to Shaare Zedek Medical Center in Jerusalem, receiving treatment for cuts to his head. "I was very shaken," he said, "It's not a simple feeling, especially because my wife and five children were inside the house. No I'm OK, and being treated."
The two terrorists were 17-year-olds from the village of Qaryut near Nablus. They are the 12th pair of terrorists to carry out attacks since the beginning of the current terror wave.
"If anyone has any doubts as to their intentions, two 17-year-olds came to slaughter me, my wife and my kids. In the seconds during which I fought with them, I thought to myself that what happened to theFogel and Gavish families. I screamed to my wife to call the settlement's guard, the children woke up and cried but my wife was with them in the bedroom, so they hardly saw anything."
While fleeing from the Harel home, the attackers broke the windows of several vehicles in the area. After that, they apparently hid, eventually deciding to continue with further attacks. They ran into IDF soldiers, and were killed.