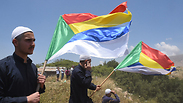 Druze in the Golan
Photo: Avihu Shapira
A new factory specializing in building materials for the defense industry was officially inaugurated in the Druze village of Isfiya outside of Haifa on Tuesday. The factory - which will specialize in making drone components - is unique in that 23 of the 30 factory workers are Druze women, who will be employed in everything from engineering to management and day-to-day operations.

Druzenet, a project management firm specializing in high-tech, established the factory with the help of a NIS 12 million investment.

"This factory is great news and significant for the Druze community, especially Druze women," said Col. (res.) Anwar Sa'ab, the head of Druzenet.

"The Druze community has undergone huge changes over the past decade, and young people from the community can be found in every job sector in Israel, from the most traditional of jobs to the most contemporary of high-tech jobs."

The factory was established at the encouragement of the aerospace industry, which even provided professional training to the women who will work there.

"As world leaders in the planning and development of drones, we are proud to be crucial partners in this important initiative," said Yossi Weiss, CEO of the Israel Aerospace Industries (IAI).

The person responsible for the initiative was Brig.-Gen. (res.) Amal Assad, a member of the board of directors at IAI. According to him, the percentage of women from the Druze community who have a university degree is at the highest level since the founding of the State of Israel.

"The fact that we succeeded in creating a new industry - into which Druze women are integrated and in a field dominated by men - is ground breaking for us," he said.

"The decision to open the factory, and its operation entirely by Druze women is wonderful," said Hasnat Hamdan, 40, a mother of four, who will be a quality control manager at the factory. "We feel that this is a huge honor. We are full of happiness and admiration. Before, I worked as a childcare worker in a daycare, and I decided to leave when I heard they were building the factory in town. This idea advances the standing of women in the Druze community, and enables Druze women to leave the house and truly participate in supporting the family."

The factory was inaugurated by Sheikh Mawfiq Tarif and Chairman of IAI Rafi Maor.