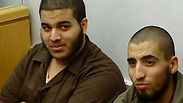 Masarwa and Ahmed
Photo: Hassan Shaalan
Two Israeli Arabs were accused on Thursday of supporting the Islamic State group and planning terror attacks at the Jalama checkpoint in Jenin, in Afula and in Jerusalem.

Bahaa al-Din Masarwa, 19, and Ahmad Ahmad, 21, were charged with establishing contact with enemies during war, contacting a foreign agent, and supporting a terrorist organization.

According to the indictment, Masarwa conspired with his grandfather to commit a shooting attack in the name of ISIS against soldiers at the Jalama (Gilboa) checkpoint near Jenin or in Afula.

Northern District Police described Masarwa as a student from Jenin who "passes through the Jamala checkpoint all the time and was planning to hurt security forces at the checkpoint."

Later, the two defendants conspired together to commit a shooting attack in the name of ISIS against soldiers at the Lion's Gate in Jerusalem.

In addition, Masarwa was in contact with a foreign agent from ISIS, and posted ISIS-related content online.

Masarwa, from Yaffa in the northern Galilee, was arrested on January 22. He admitted to the suspicions attributed to him and confirmed in his interrogation that he is an ISIS supporter.

Ahmad, from Nazareth was arrested on February 9. Masarwa said that he and Ahmad planned to purchase weapons together and commit terror attacks in different locations in order to undermine Israel's security forces.

Masarwa claimed that "we've only been arrested because we have beards."

A relative of one of the defendants stated that "everything that is being attributed to them is false. We don't know where this story came from. Soon, we're sure, they will be released and won't remain in jail. This is a storm in a teacup."

Masarwa is the nephew of Ayman Kanjou, 44, from Shefa-'Amr, who was accused in September of trying to join the Islamic State. The mother of five boys, who has a PhD in Islamic Studies and no criminal record, went to Turkey with her father, who later returned to Israel and reported her missing. According to the indictment against her, she tried to join ISIS but was stopped by Turkey and returned to Israel.