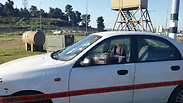 Terrorist's car
Photo: Fire Department
A female attacker tried to ram into soldiers posted at the Gush Etzion Junction in the West Bank on Friday morning.

The woman, who arrived at the junction from the direction of Jerusalem, drove onto the sidewalk and hit one of the soldiers, lightly wounding him. Other soldiers were able to get out of the way on time.

She was shot to death by soldiers from the Oketz Unit posted at the junction, and a knife was found on the dashboard of her vehicle.

The wounded soldier was taken to the Shaare Zedek Medical Center suffering injuries to his legs.




The Gush Etzion junction is one of the main targets for terror attacks over the past five month.