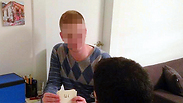 A Dutch Jewish teacher suspected of sexually abusing children has been arrested in Tel Aviv earlier this week, two years after the Netherlands asked for his extradition, the Dutch Telegraaf reported on Thursday.

The teacher, 28, has been in Israel for three years. He was arrested on Monday and was brought to a remand extension hearing at the Jerusalem District Court the next day.

According to reports in the Netherlands, the suspect was born to a Reformist family in Amsterdam and became more observant a few years ago. He attended a yeshiva in Jerusalem, while teaching at a private school of languages in central Israel. In 2010, the suspect returned to the Netherlands, where he started working at the Cheider School in Amsterdam - a prestigious ultra-Orthodox institution that includes a kindergarten, a primary school and a high school.

In 2012, a 16-year-old student told his parents that the teacher sexually assaulted him in a side room. The parents turned to the school but were ignored, so they turned to the media. The school - where 200 children aged 2-18 study - said it "held a clarification conversation with the teacher."

That year, other students at the school, younger than 10, started suffering symptoms of anxiety, and a doctor who examined them raised the suspicion that they were also sexually abused. It was only at that point that a police investigation was launched.

The reports, published in the popular newspaper Telegraaf, embarrassed many in the Jewish community in the Netherlands and led to great public pressure for the school's administration to join the police complaint.

But the teacher, who was fired for "inappropriate behavior," left the country for Israel, with his attorney at the time claiming that "his departure is unrelated to the reports. He announced his intention to leave in advance and it should not be interpreted as him running away."

The teacher denies the accusations made against him and said through his lawyer that he will resist extradition.

Lawyer Hila Nawi, who represents some of the Dutch victims in Israel, told Ynet: "I'm happy that a legal fight that has been ongoing for three years is nearing its conclusion. For two years we've been working with the Israeli State Attorney, the Dutch State Attorney and the Dutch Police in an effort to reach an extradition request. The families experienced great suffering, and some have fallen apart."

After an extradition request is made, the requesting country is required to present the indictment against the wanted suspect to the Israeli State Attorney, which examines it. Meanwhile, the suspect is imprisoned until a decision in his case is made. The State Attorney then asks the District Court to declare the suspect extraditable, and then an indictment and an extradition order are issued against him. Israel then coordinates the extradition with the Interpol.