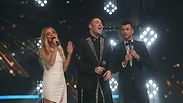 Hovi Star, middle, Israel's Eurovision representative
Hovi Star will represent Israel in the 2016 Eurovision Song Contest in Stockholm with the song "Made of Stars", written and composed by Doron Medalie.
Star, 29, a resident of Kiryat Ata, whose real name is Hovev Sekulets, won Thursday evening the final round of reality TV singing competition HaKokhav Haba (The Next Star), which sends the winner to the annual contest.
"I'm wildly excited," he said after winning the final. "This is a childhood dream come true and I promise to represent Israel in the best way possible."
Star, who appeared in the same show's seventh season, beat the two other finalists - Nofar Salman, 17, a twelfth-grader from Rishon LeZion who also performed the song "Made of Stars", and Ella Daniel, 28, a cook and waitress who lives in Jaffa and sang "Somebody Out There". Gil Hadash, 20, was eliminated in the first stage and finished the final in fourth place.
Star is set to perform at the Eurovision's second semi-final on May 12. But he will not be the only Israeli at the contest - FrenchIsraeli Amir Haddad, who took part in HaKokhav Haba's fourth season, was chosen to represent France .