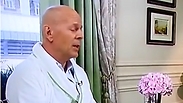 They finished the successful horror thriller "Big Bad Wolf" starring Lior Ashkenazi and Tzahi Grad. Now, after three years, Israeli directors Aaron Keshales and Navot Papushado were chosen to direct another movie full of vengeance -- but this time in Hollywood, and starring Bruce Willis.

The are set to helm a remake of the movie "Death Wish," which starred the late Charles Bronson, and that became a cult classic series of films.

Stepping into Bronson's shoes is Willis, 60, who has already acted in many action movies. He will play the architect Paul Cressy, whose wife was murdered and daughter raped, thus causing him to take the law into his own hands as he embarks on a journey of revenge to kill the people who destroyed his life.

According to Hollywood press reports, such as the website Deadline that first reported the story, the new film is expected to be much more faithful to the book "Death Wish" by Brian Garfield - upon which the film series is based. Filming is expected to take place this summer.

The film will be produced by Roger Birnbaum, who also produced "Rush Hour 2" and "Star Trek".

Keshales, 39, and Papushado, 36, began their careers as directors and screenwriters with their horror film "Rabies" in 2010.

In 2013, the pair broke onto the international stage with horror film "Big Bad Wolves," which rose to cult status amongst lovers of the genre. Quentin Tarantino described it as the best film of the year - even personally complimenting Papushado when he met him at a film festival in South Korea. Since then, the two directors have received several offers from studios in Hollywood, and among other things it was announced that the two will direct the remake of the French - Hong Kong thriller "Revenge", whose script they presented in December.

The "Death Wish" series, which includes five movies, reinvigorated Bronson's career, as he had before that been considered an "aging star."

The new version of the script was written at different stages by esteemed directors and screenwriters such as Dan Gilroy, Joe Kernan, and Dan Yost.

It still hasn't been released as to whether or not Keshales and Papushado, who until now wrote all of their own scripts, will contribute anything of their own to the movie they are directing.