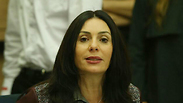 Culture Minister Miri Regev
After Galei Tzahal (the IDF radio station), the loyalty bill, and initiating special awards aimed at Mediterranean-style music, Culture and Sport Minister Miri Regev is preparing her next moves, which are set to shake the world of Israeli culture: theaters, their management, and the Israeli Opera are have all caught the Minister's eye.

In an interview set to be published in next weekend's Yedioth Ahronoth edition, Regev outlines her plans. One of its most significant parts is merging institutions that are struggling financially with those that are doing well, among them the larger Tel Aviv theaters. A special committee will deal with possible matches of different theaters. According to a source in the know, Habima, Israel's national theater, may be merged with another large TA institute. "There are many options on the table," says Regev.

Theaters will also see a revolution in term of personnel. Minister Regev intends to limit the terms of managers of cultural institutions to five years at most. Up to now, no such limits have been imposed, and there are currently some people who have run their institutes for long periods. Tzipi Pines has been the general director of Beit Lessin since 1993, for example, and Noam Semel has been in the same position at the Cameri Theater since 1992. "Managing institutions without a time limit is bad for the organization and the industry, and it doesn't make sense," says Regev, "Talented people from the theater come to me and tell me, 'Miri, we have nowhere to go, there's nothing on the horizon.' They're right."

Another planned initiative targets the Israeli Opera, which is set for a cut in funds. Its current yearly budget stands at about NIS 18 million. Regev plans to establish a national Andalusian orchestra, hoping that over time it reaches the same status as the Israel Philharmonic Orchestra.

Regev raised some people's ire when she gave a recent speech, in which she accused those present of ignoring certain audiences and their interests. "They always say you should start with a quote, because it makes a cultural interest, so here. As an ancient Chinese philosopher once said, 'Cut the b******t,'" Regev said. "While the other culture, which has been excluded and silenced for years is the one that demands independence, you of all people, who were supposed to carry its flag in the name of pluralism and acceptance of others, which you hold so dearly, have chosen to ignore it. From the moment I began allocating culture budgets to those who weren't (your) partners – I became the enemy of independent culture."

Raz Schechnik, Raviv Golan, Yehuda Nuriel, and Itamar Eichner contributed to this report.