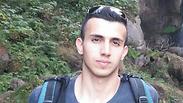 Tommy Hasson, a 22-year-old Druze student who was beaten by a group of Jewish youths over a year ago for the sole reason of speaking Arabic, has not been recognized as a victim of hostilities, and his attackers have not been indicted.

Adding insult to his injuries is a letter he received from Magen David Adom (MDA), ordering him to pay NIS 493 for the ambulance ride he received, or his bank account will be seized.

Hasson was attacked by ten kippah-wearing Jewish youths near the Jerusalem Central Bus Station. He claims they attacked him after they heard him speaking Arabic. Hasson was hospitalized after the attack at the Hadassah Medical Center in Jerusalem's Ein Karem, suffering bruises to the face and neck. The police arrested several suspects, while the Magistrate's Court determined that "this nationalistically-motivated offense is seven times as dangerous, particularly in recent months."

Hasson, who grew up in the Druze town of Daliyat al-Karmel, is studying at the Jerusalem Academy of Music and Dance. He spent part of his IDF service as a combatant, and part working at the President's Residence. President Reuven Rivlin, who knew Hasson, phoned his father after the attack, expressing his support. The president later published a post about the matter on his official Facebook page.

However, over a year later, and none of the suspects have been indicted. The Jerusalem Attorney's Office had trouble even locating the case file, even though Ynet made several inquiries about the matter.

In addition, MDA is demanding that Hasson pay for his ambulance ride, since he was not recognized as a hostilities victim by the National Insurance Institute (NII). Hasson said he was not aware that he had to send a request to the NII in order to receive such recognition. When asked, NII officials said they did not recognize Hasson's status since law enforcement authorities did not report the incident to them. Only after Ynet contacted it did the NII contact Hasson and begin the process to recognize his status.

"Too many months have passed for such a simple request. Where's the equality? Where are my rights? I pay my dues to the state, (I am) an honest citizen. I served the state for three years in the IDF. On the day of the attack, civilians saw me being attacked and didn't protect me or offer me help. It's disappointing that my case isn't being treated equally," said Hasson.

The NII responded by saying, "This case, which occurred about a year ago, was not reported to the National Insurance Institute by security bodies or hospitals immediately after the incident, and thus we had no information regarding it. When speaking of a definitive hostilities event, all authorities involved report in real time, and NII workers immediately visit the victims and their families, taking care to grant them all of their rights.

"It should be mentioned that the decision to define an incident as a hostilities incident, and the recognition of victims as hostilities victims, is entirely up to the Defense Ministry, and only those approved as hostilities victims will be entitled to payments and NII benefits. Up to now, Mr. Hasson did not contact the NII or ask to be recognized as a hostilities victim. Upon receiving your inquiry, we contacted Mr. Hasson and instructed him on how to file a request."

MDA responded by saying, "The services of Magen David Adom involve payments, and if a person is entitled to deductions they must contact the insurer themselves. In this case, we are dealing with a person who claims he was harmed in a nationalistically-motivated attack. The decision whether to recognize the patient as a hostilities victim is the NII's, and so he should coordinate the debt relief with the NII. The MDA went beyond the letter of the law and, in an extraordinary step, froze Mr. Hasson's debt proceedings for a whole year, so that he would be able to exercise his full rights with regards to the NII. Unfortunately, during that entire time, Mr. Hasson did not give MDA any documentation showing he was a hostilities victim even though he was asked by us to do so, and so MDA is now resuming collection actions."

The Ministry of Justice did not respond as of this writing's publication.