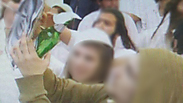 Trying to set fire to Palestinian baby's photo
At least 10 people who participated in the "wedding of hate," including the groom, are expected to face charges in the case, Ynet learned on Monday evening.

Videos filmed at the Jerusalem wedding of Yakir and Ronny Ashbal in December show guests dancing while brandishing firearms and Molotov cocktails, and mocking the murder of Palestinian baby Ali Dawabshe - who was burned to death along with his parents in an arson attack at his home in Duma - by stabbing a photo of his with a knife and trying to set it on fire

Police's Judea and Samaria District's Nationalistic Crimes Unit conducted the investigation into the wedding. The investigative material has already been transferred to the State Attorney and returned to police for final additions.

Footage from the wedding

Among those who are expected to be indicted are also minors, who are facing charges of indictement and illegal possession of arms.

The groom, Yakir Ashbal, was interrogated shortly after images and videos from the wedding were released to the press. He was arrested and released several days later. Other youth and radical right wing activists were also arrested. All of them were released after a few days.

In addition, some of the wedding guests were hilltop youth who were breaking a court order barring them from meeting with other hilltop youth who were present.

Footage from the wedding led to outrage on both the left and right wing. Prime Minister Benjamin Netanyahu said that "The shocking pictures that were broadcast this evening show the true face of a group that constitutes a danger to Israeli society and to the security of Israel. We are not prepared to accept people who deny the laws of the state and do not view themselves as subject to them. The pictures underscore how important a strong Shin Bet is to the security of us all."

Opposition leader Isaac Herzog called the wedding guests: "Crazy, wretched people. You forgot what it means to be Jewish. You are disgracing the kippah, the talit and God. Those who dance at a wedding and celebrate the murder of a baby in his sleep are not Jews nor are they Israelis. They need to be locked behind bars, as soon as possible."

Attorney Itamar Ben-Gvir, who represents some of the suspects and was at the wedding himself, said in response to the intention to press charges: "It turns out that the State Attorney has a lot of free time, and the waving of a photo gets precedence over cases of murder, rape and drugs. So be it, but I'd suggest the State Attorney started by filing indictment against guests at weddings in Umm al-Fahm and Arara, where in many of the weddings there are shootings and cursing the State of Israel and incitement to murder Jews."