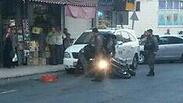 Scene of the attack in Jerusalem
Three terror attacks hit the cities of Jaffa, Jerusalem and Petah Tikvah within an hour and a half on Tuesday afternoon and early evening, with one person murdered and 14 wounded.
A 29-year-old tourist from the US was murdered and eleven others were wounded in a terror attack at the Jaffa Port area early Tuesday evening. The terrorist, Bashar Masalha, a 22-year-old Palestinian from Qalqilya, was shot to death by police that arrived at the scene.
The terrorist arrived at the Jaffa Port on Tuesday evening, where he stabbed several people. He then turned right, running towards the Clocktower Circle, then turned left and continued running hundreds of meters north along the boardwalk towards the Manta Ray restaurant, stabbing others as he went. US Vice President Joe Biden was in the area at the time of the attack - visiting the Peres Center for Peace located approximately a mile away (2 kilometers) from where the first stabbing occurred.
Jaffa terrorist running along the Jaffa boardwalk as he attacks passersby
Twelve people were taken to hospitals in the area - three in serious condition, three in moderate condition and the rest were lightly wounded. One of the victims, a US citizen, was pronounced dead upon arrival at the Wolfson Medical Center in Holon. Six were taken to Ichilov Hospital at the Sourasky Medical Center in Tel Aviv - one of them a pregnant woman in moderate condition, and two in light condition who will be released later Tuesday evening. Two more were taken to Wolfson and four were taken to the Sheba Medical Center in Tel HaShomer - one seriously wounded, two moderately, and one lightly. Another person, believed to be the friend of the murdered tourist, was being treated for shock.
Yosef, an eyewitness, said that he tried to strike the terrorist with an aluminium rod. "The terrorist, who was young and wearing a hoodie, came from the Jaffa Port area," Yosef said. "Once he was on the boardwalk, he attacked a tourist couple. The woman was stabbed several times, tried to flee, and fell. The terrorist then continued to stab the man, and stabbed him in the leg. I was in my car. I ran towards the terrorist, took the aluminum rod, and hit him in the back. He tried to stab me, then he ran."
According to a second eyewitness, "I was in my office and I heard screams. I saw a young man wearing a hoodie who was attacking a woman. She was a tourist. There were screams and then a man carrying an aluminium rod ran towards them. The terrorist got scared and ran north. The man with the aluminium rod stopped, and together we started administering first aid to the tourist. I called Magen David Adom and they told me to apply preassure on her wounds."
Tel Aviv-Jaffa Mayor Ron Huldai condemned the attacks, saying "The attacks today in Jaffa join the attacks carried out in Petah Tikva and Jerusalem. We are in a period of prolonged, ruthless terror attacks which have no sign of stopping. The perpetrator was an illegal alien, and the Jaffa community condemns these attacks. We will not let murderous terror defeat us."
Meanwhile, Hamas officially praised "The heroic attacks in Tel Aviv (Petah Tikva - ed.), Jerusalem, and Jaffa which were carried out by Palestinian youths. The resistance operations today prove that plots to abolish the Jerusalem intifada are doomed to fail. The intifada will go on to achieve its goals."
In a situation assessment attended by Public Security Minister Gilad Erdan, Police Commissioner Roni Alsheikh and the Tel Aviv District Commander Moshe Edri, the Israel Police decided to increase its presence and operations in Tel Aviv-Jaffa. In addition, police raised the alert level throughout the country, and are requesting the public to remain vigilant and report any suspicious activity, but to maintain their daily lives.
Police said that each of the attacks was carried out by "lone wolves" acting of their own accord.
While noting that security forces were able to identify and thwart many potential attacks over the past several weeks, police said there was no warning that Tuesday's attacks were about to happen. US Vice President Biden's visit could also have acted as a general trigger for these specific events, and police are reviewing their operational procedures beyond the securing of the event itself.
Policemen wounded in shooting attack in Jerusalem
Earlier in the day, a terrorist opened fire with a Carl Gustav rifle at police officers operating on Salah e-Din Street near Herod's Gate in Jerusalem's Old City, wounding one of them seriously. The terrorist then escaped, and as a police and Border Police force was pursuing him, he fired at them and seriously wounded another policeman.
The force returned fire and killed the terrorist. Security forces searched the area for a possible accomplice, and later in the evening raided the village of Issawiya.
Terrorist opens fire at police in Jerusalem (צילום: הלל מאיר, tps אלי מנדלבאום)
The two policemen were wounded by gunfire in the neck and head and evacuated to the Hadassah Medical Center in Jerusalem's Ein Karem where one, 49, remains in very serious condition and in danger of losing his life, while the other, 31, is now in moderate-to-serious condition and stable.
Two heroes in Petah Tikva
Less than an hour earlier in Petah Tikva, a terrorist stabbed an ultra-Orthodox man who was entering a store on Baron Hirsch Street. Yonatan Ezriyahav, 39, was caught by surprise when the terrorist, Abdel Rahman Radar, attacked him from behind with a knife, stabbing him in his upper body.
The attack was documented in its entirety by security cameras. In the video, Ezriyahav is seen going into a shop called "Sweet and Spicy," as the Palestinian terrorist follows behind him. He then lifts his shirt up, takes out a knife, and begins stabbing Ezriyahav.
Ezriyahav, a father of five from Yavne'el in northern Israel, originally arrived at the Petah Tikva market to hand out leaflets about Rabbi Nachman of Breslov.
"I was in the store, and all of a sudden, someone jumped on me," Ezriyahav recounted. "I didn't understand what he was doing, until someone yelled 'terrorist!' and I realized (what was going on) and saw the knife. I felt it in my neck, and I asked 'what happened to me?' I thought it was the end."
While the terrorist was stabbing Ezriyahav, the store owner leapt from the entrance, grabbed the terrorist's arm, and helped Ezriyahav overtake the terrorist.
"It took me a bit but I pulled myself together and when I realized it was a terrorist I realized that I need to fight him so that he wouldn't kill anyone else," Ezriyahav continued. "I said 'If I am not for myself, then who will be for me? But when I am for myself, then what am I? And if not now, when?'"
Ezriyahav then took the knife out his neck and began to stab the Palestinian terrorist multiple times while the terrorist was on the ground.
An eye witness at the scene said that "It all happened in a matter of seconds. Two people ran to the victim, and they tore his shirt and tied it around his wounds to try and stop him from bleeding out. Then they sat the victim in a chair. The store owner is a real hero. He fearlessly jumped onto the terrorist."
"A lot of people came up to the store owner and called him a hero," Yoav Levi, a Petah Tikva resident said. "Everyone came to pat him on the back, but he was in shock. I told him 'you're my hero, you're everyone's hero.'"
Eventually, Ezriyahav was evacuated to the hospital, and the Palestinian terrorist died of his wounds.
The Palestinian terrorist, Abdel Rahman Radar, is from the village of Zawiya in the West Bank - not far from Qalqilya, were the Jaffa attacker was from. Tuesday was his 17th birthday.
Foiled attack in Jerusalem
Earlier, a Palestinian woman tried to stab police officers in Jerusalem's Hagai Street, which has seen several stabbings in the past few months.
According to the police, the terrorist approached Border Police officers on Hagai Street, drew a knife from her back, and tried to stab them.
Scene of the attack in Jerusalem (צילום: גיל יוחנן)
The woman, a resident of East Jerusalem aged around 50, was shot and fatally wounded. No one else was hurt.
Hamas claimed responsibility for the attack.
Two terror attacks occurred on Hagai Street in October. In the first, a Palestinian terrorist stabbed to death Nehamia Lavi, 41, a 23-year resident of the Old City and a father of seven; and Aharon Bennett, who wife was also seriously wounded in the stabbing, while his two-year-old son was lightly wounded.
A few days later, an 18-year-old Palestinian attacked an Israeli with a knife, lightly wounding him.
Eli Senyor, Noam (Dabul) Dvir, Roi Yanovsky, Omri Efraim, Raanan Ben Zur, Elior Levy, Rotem Elizera and Ran Boker contributed to this report.