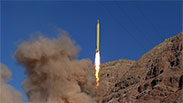 One of the launched missiles.
Iran launched two ballistic missiles Wednesday at targets that stood 1,400 kilometers away, Iranian news agency Fars reported. The missiles reportedly bore the writing "Israel must be wiped out" in Hebrew.

Brig. General Amir Ali Haji Zada, commander of the Iranian Revolutionary Guard's air corps, said Wednesday that Iran's missiles belong to the Palestinian people, the Lebanese people, the Syrian people, the Iraqi people, the Islamic world, and all of the oppressed people of the earth.

Brigadier General Hossein Salami, Deputy commander of the Revolutionary Guard, told journalists on Wednesday that Israel would collapse very soon. He boasted about Iran's large reserve of missiles that could be readily launched, toward a variety of targets and ranges.

Salami said that the accumulation of missiles was the result of sanctions imposed on Iran, and that the more sanctions were imposed, the more missiles would be manufactured. He added that the missiles were ready for launch if Iran's enemies were to implement what he called their aggressive intentions.

US Democratic presidential front-runner Hillary Clinton said on Wednesday she was "deeply concerned" by reports that Iran had tested multiple ballistic missiles and said the country should face sanctions for its actions.

"This demonstrates once again why we need to address Iran's destabilizing activities across the region, while vigorously enforcing the nuclear deal," Clinton said in a statement.

"Iran should face sanctions for these activities and the international community must demonstrate that Iran's threats toward Israel will not be tolerated," she said.

At a daily press briefing with reporters, White House spokesman Josh Earnest said it would not be a surprise if there are additional missile launches over the next several days.

"We will continue to redouble our efforts with our allies and partners in the region to try to limit Iran's ability to continue to develop their missile program," Earnest said.

Reuters contributed to this report.