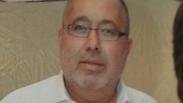 the late Avraham Hasno (Photo: Kiryat Arba Spokesperson)
A Palestinian from Dhahiriya was arrested on Wednesday for fatally running over Abraham Asher Hasno at the Fuer junction near Hebron in October.

The suspect was detained until recently at the Dhahiriya police station. After the Palestinian was released a few days ago, he was arrested in a joint operation that involved the Shin Bet, the IDF and the Duvdevan unit, following a period of intensive surveillance. The arrestee was taken for questioning by the security forces.

Hasno was run over after he got out of his vehicle to avoid stones being thrown at him. The driver fled Dhahiriya, and later turned himself in to Palestinian security forces, claiming that it was an accident. Initially the event was not defined as an attack, but two weeks later the Defense Ministry recognized Hasno as a victim of hostile actions.

Avraham's widow, Ruth Hasno, welcomed the arrest: "Thank the Almighty, who who has granted us life, sustained us and enabled us to reach this occasion, " she said after being informed about the arrest. "I feel justice was done. It will not weaken the pain over Avraham, at least a small circle was closed. "

Hasno wanted to thank the security forces, "who worked to turn in this heinous terrorist. That's what Avraham would have wanted. The loss is enormous, but now there is at least a small consolation. "

Five months after the attack, Hasno's daughter, Tzadika Ben David, gave birth to a son. "I finished delivering within 40 minutes, I felt Dad was with me," she said after the birth of her third child. Tzadika, 25, lives with her husband and two children in Netivot and used to visit her parents often. Two weeks before her father was murdered, she told him she was pregnant. "He always told me, 'When will you bring another son I can be a godfather?' and I told him that as soon as I had a son, his place as a godfather was guaranteed. I told him I was pregnant and I asked him if he and Mom would come to the hospital if the birth happened at night. He replied, 'without Mom, I'll come to you and I will be with you throughout the entire birth.' And that's how I felt, that he was with me."