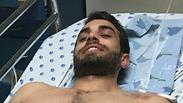 "I saw someone fall in front of me and then someone attacked me, grabbing me strongly and stabbing me in the shoulder" said Mohammed Wari, a 26-years-old victim of the Jaffa terror attack Tuesday night. Wari left his Neve Tzedek home for a routine run and encountered a terrorist as he was jogging through Jaffa. He was lightly wounded and discharged from the hospital on Wednesday.
Wari is from East Jerusalem, but moved to Neve Tzedek to work at a hi-tech company a few years ago. He said, "Every Tuesday, I run on the promenade. Usually I run north towards Tel Aviv's Old North, but yesterday I decided to run south towards Jaffa."
After running for several minutes, he encountered terrorist Bashar Masalha, who stabbed him in the shoulder, as well as another person nearby. "We ran onto the main road where the cars were passing by, but no one understood what had happened. After a few minutes some passersby saw and aided us. They asked us to sit down, but we feared that the terrorist was still at-large. I feared that he would come back and stab me again," he said.
Ten minutes later, police officers arrived at the scene and reassured Wari and the other wounded individual. Then medical teams evacuated the two to Ichilov hospital.
Wari was surprised by the terror incident in the mixed city. "I never thought that I would be caught in the middle of an attack. I do not follow the news because the situation here is very depressing, but I never thought I would be entangled in a such a nationalistic event."
Wari condemned the terror attack. "This is unrelated to the fact that I am an Arab, but the terrorists and their supporters don't discriminate between Jews, Muslims, and Christians, or Americans and Russian. They only want to kill. Terror has no color, race, or religion. Terror is an illness that needs to be stopped. Terror has a clear goal: to kill and destroy the world and the coexistence, in which we live."
Wari also spoke about the support he received from his family and friends. Jews and Arabs from all over took interest his health and wished him a full recovery. "Friends from Haifa and Tel Aviv visited and other friends and family from East Jerusalem plan to come. They were very concerned about me."
Wari post a facebook status after the attack: "I am so blessed to stay alive, the stab was so close to my neck, but I've been able to push him and run away. Thanks for all of those who has called and visited. With not little pain killers I feel good."