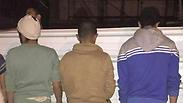 More than 250 Palestinian illegal aliens were arrested throughout the country Thursday by the police, in accordance with a government directive to implement steps to curb and stop the current wave of terror.
Police know that the courts tend to be easy on illegal aliens if they are not involved in criminal activity, so they are now targeting employers for punishment.
This week, the government convened a security meeting in light of the escalating violence, some of has been traced to illegal aliens, such as Tuesday's deadly terror attack in Jaffa. Among the decisions taken were to close loopholes in the security fence around Jerusalem, build a fence in the area of Taruqumiya (a Palestinian village northwest of Hebron) and the construction of the area Tarqumyia and promote speedy legislation to punish those assisting or giving lodging to illegal aliens.
Wednesday night police seized hundreds of illegal aliens, most of whom were staying in Israel because they had found a job.
In Holon, three illegal aliens who were renovating an apartment, as well as their employer, were arrested. In Bat Yam, two Palestinians without work permits were arrested. Another eleven illegal aliens were arrested in Bnei Brak and Ramat Gan. A Bnei Brak business owner was detained for questioning for employing one of them.
22 others were arrested in an improvised residential area near Habesor Stream in the Negev. Intelligence information led Israel police, Border police and volunteers to the site, where they found that the illegal aliens had put up showers, sleeping tents, toilets and a field kitchen.
Five illegal aliens, including two minors were arrested in Kiryat Malachi. They were found at a construction site and were taken in for questioning. One of them was arrested and the others were expelled from Israel.
Police said that their actions against illegal aliens, whether in the past or the present, is meant to strengthen citizens' sense of security. They clarified that strong measures will be taken against employers, and that they will not balk at closing restaurants, construction sites or stores that employ illegal aliens and will file charges and impound vehicles.
Ahiya Raved, Noam (Dabul) Dvir, Amir Alon and Meir Ohayon contributed to this report.