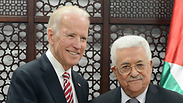 אבו מאזן נפגש פגישה עם ג'ו ביידן סגן נשיא ארה"ב ב מוקטעה ברמאללה
Palestinian President Mahmoud Abbas rejected a peace initiative presented by US Vice President Joe Biden during their meeting in Ramallah on Wednesday, according to Palestinian newspaper Al-Quds.
According to Al-Quds, the US initiative included four main clauses: East Jerusalem as a Palestinian capital, an end to settlement building in the West Bank and East Jerusalem, Palestinian recognition of Israel as a Jewish state, and Palestinians' forfeiting the right of return.
Biden proposed the peace initiative at a time when the White House is reviewing its options to revive negotiations and present an alternative to a French proposal for an international peace conference, according to The Wall Street Journal. The main option considered by the US administration is support for a UN Security Council (UNSC) resolution calling on both sides to reach a compromise on outstanding issues. The US has previously vetoed other similar UNSC resolutions.
The Palestinian assessment is that the US initiative does not present innovative ideas and will, at most, result in a presidential document or a proposal submitted to the UNSC.
Pierre Vimont, the French special envoy for the international peace initiative, is set to arrive in Israel and the Palestinian Territories on March 13 for a two-day visit. Vimont is to speak with the both sides about holding an international conference by summer to bring together Israelis, Palestinians, and their principal partners.
Biden and Abbas met in Ramallah for two hours. In an unusual move, Abbas offered his condolences to the American VP for the murder of an American tourist in Tel Aviv on Tuesday, but also said that Israel has killed 200 Palestinians in the past five months. It was the first time that Abbas has indirectly condemned an attack since the start of the ongoing violence.