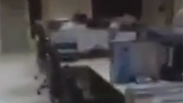 Falasteen al-Yom's station in al-Bireh
IDF forces raided the Islamic Jihad-affiliated channel Falasteen Al-Yom based in al-Bireh near Ramallah on Thursday night, confiscating equipment, but it continues to broadcast from its offices in the Gaza Strip.
They also arrested the director of the station in the West Bank, Farouk Alian, at his home in Bir Zeit. Alian was arrested in the past because of his activities with Islamic Jihad. The channel is considered to be one of the most popular TV channels among Palestinians.
Since the current wave of terror began about six months ago, Falastin al-Yom has been encouraging and inciting Palestinians to carry out attacks and to confront Israeli security forces, as well as glorifying terrorists who carried out attacks.
Falsteen al-Yom's station being raided by IDF forces
During the raid, two employees who were there at the same time were arrested - one of them is a cameraman and the other is a technician. The channel's technical services are provided by Palestinian production company Trans Media, which provides technical services to many channels in the West Bank – both international and Palestinian.
Falasteen al-Yom has reporters and cameramen in the West Bank, but its headquarters are in the Gaza Strip and therefore it is able to continue broadcasting.
The IDF spokesman said that "a joint operation of the IDF and the Civil Administration led to the seizure of transmitters and technical equipment from Falasteen al-Yom station. This is a station that is affiliated with the Palestinian Islamic Jihad organization and is an illegal entity. The place was issued a closing order due to its radio station broadcasting incitement."
The Shin Bet said that "the closure of the channel illustrates the many efforts being made to thwart incitement to terrorism, which serves the interests of terrorist organizations to expand the circle of potential terrorists."