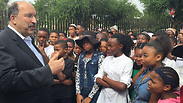 Dore Gold meets with South African youth
Photo: MFA
After a long period of tense diplomatic relations between Israel and South Africa, the Director General of the Israeli Foreign Ministry, Dr. Dore Gold, arrived in South Africa on Thursday for an official visit in an attempt to improve the two countries' relationship.

Gold's visit is the first by a Foreign Ministry director general in a decade. According to sources in Jerusalem, Gold has expressed his desire for a normalization of relations and for the establishment of a dialogue with South Africa as part of Israel's policy to forge closer relations with African countries.

Gold met with his South African counterpart, Jerry Matjila, in Pretoria on Thursday. A joint statement issued following their meeting announced, "The discussions were held in a positive atmosphere and a shared desire to deepen dialogue and friendly relations between South Africa and Israel."


The press release added, "The directors general agreed that officials from South Africa and Israel will work together on national priority issues such as water, agriculture, trade and science and technology. The sides also discussed the situation in the Middle East. The sides emphasized the importance of trade delegations in both directions."

The following day, Gold visited the home of the late South African president Nelson Mandela, met with local Christian leaders, and spoke with students at the University of Witwatersrand.

Speaking to the thawing of relations between the two countries, Gold told the students, "As Israel continues to upgrade its dialogue with South Africa, it is essential that both countries deepen their understandings of each other's narrative."

Tensions began on May 31, 2010, following the Gaza flotilla raid, when South Africa's ambassador to Israel was recalled in protest. Several weeks later, however, on July 20, South Africa's foreign ministry, the Department of International Relations and Cooperation (DIRCO), announced his return to Tel Aviv.

In 2013, the Deputy Minister of DIRCO, Ebrahim Ebrahim, declared that "the government of South Africa is more extreme and more rigid in its relations with Israel than with many Arab states."

That same year, Maite Nkoana-Mashabane, the DIRCO minister, said that her government's ministers would no longer visit Israel as a show of support for the Palestinian cause.

In response, the then-Israeli foreign minister, Avigdor Lieberman, accused South Africa of hypocrisy and classic anti-Semitism. He speculated, "a pogrom against the Jews of South Africa is only a matter of time."

Approximately a year ago, Israel refused to grant an entry permit to then-South African Minister of Higher Education and Training Bonginkosi "Blade" Nzimande, who planned to visit Ramallah. According to explanations from Jerusalem, Nzimande's application was rejected because he requested to pass through Ben Gurion Airport without visiting Israel, and this was seen as establishing an anti-Israeli stance.

The minister, who is also the secretary general of the South African Communist Party, called for an academic boycott of Israel and went so far as to demand the expulsion of the Israeli ambassador in Pretoria.

Relations were further damaged in October of 2015 when South Africa hosted Hamas's political chief, Khaled Mashal. The Foreign Ministry in Jerusalem summoned the South African ambassador for a stern rebuke and claimed that inviting Mashal was scandalous and lent support to terrorism.

The BDS movement in South Africa is considered one of the most militant in the world, and it has been protesting Woolworths, a chain in South Africa that sells Israeli products, for years. There have been violent incidents, including one in which protestors transfenestrated a pig's head at a local store.

Former president Shimon Peres's visit to the country in February was met with protests.