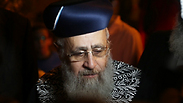 Chief Sephardic Rabbi Yitzhak Yosef
Photo: Motti Kimchi
Chief rabbi: It is a commandment to kill a knife-wielding terrorist
The Sephardic Chief Rabbi Yitzhak Yosef, during his weekly lesson, states that one is commanded by the Torah to kill a terrorist with a knife; IDF chief of staff stated last month that 'he doesn't want a soldier to empty a magazine on a girl with scissors.'
Sephardi Chief Rabbi, Rabbi Yitzhak Yosef said Saturday night, during his weekly lesson, that it is a commandment to kill a terrorist who comes to carry out an attack with a knife.
Rabbi Yosef added, "that there is nothing to fear - not from the IDF's chief of staff or the High Court. These words were directed at Chief of Staff Gadi Eisenkot's statement during a meeting with high school students last month that "he doesn't want a soldier to empty a magazine on a girl with scissors."
Despite the harsh words of the chief rabbi, he also had reservations: "If he no longer has a knife, then you have to imprison him for life until the arrival of the messiah, who will tell us who the Amalekites (Biblical enemy of the people of Israel) are and then we will be able to kill them.
Last February, at a meeting with students in Bat Yam, Eisenkot was asked about the apparently soft rules of engagement in the West Bank, and he responded by saying that a "soldier receives a rifle or a rocket to take a human life, and the rules of engagement are derived from the task the force receives. We do not act according to slogans such as 'whoever comes to kill you, kill him first'. A soldier can remove the safety and shoot if there is a danger to him or his comrades.
"The West Bank has thousands of troops operating amongst two million Palestinians and hundreds of thousands of Israeli citizens. We educate our soldiers to act according to the IDF's ethics and spirit, and it is much easier to work with Syria or Lebanon in this matter. If we were to act in an unethical manner in our rules of engagement, it would pose a threat to the IDF. There were 170 terrorist incidents in recent months, and more than 100 terrorists were killed in situations in which the troops had split-second decisions to make. I would not want a soldier to unload an entire clip into a girl who is holding scissors. Our troops are moral and we know how to preserve this quality."
The chief of staff's remarks sparked a political storm and received belated support from Prime Minister Benjamin Netanyahu who stated that "it was futile argument. The chief of staff said the obvious. In any case the IDF and the security forces act as he said they do. What was said afterwards was a result of misunderstanding or for political gain."