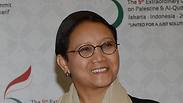 Israel refused to allow the Indonesian Foreign Minister Retno Marsudi to enter the Palestinian Territories after she expressed opposition to meeting with Israeli officials in Jerusalem. Marsudi was supposed to travel to Ramallah to dedicate an honorary Indonesian consulate.

Indonesia had planned to dedicate the consulate to fulfill pledges to improve relations with Palestinian Authority and express support for the Palestinian struggle for independence. The Indonesian FM's spokesperson said that the minister was supposed to meet Palestinian President Mahmoud Abbas in Ramallah. Israel also denied the entry of former Indonesian foreign minister Marty Natalegawa and ministers from Malaysia, Cuba, and Bangladesh.

Indonesian President Joko Widodo focused heavily on the Palestinian issue in his 2014 presidential campaign and promised to open a diplomatic office in Ramallah to express support for Palestinian independence. Widodo also told a meeting of the Organization of Islamic Cooperation in Jakarta last week that he appointed a Palestinian, Maia Abu Shusha, to serve as Indonesia's honorary representative to the Palestinian Authority.

He added that Abu Shusha will be responsible for strengthening economic, social, and cultural ties and encouraging tourism and business exchanges. He will also be tasked with aiding Indonesian tourists traveling in the Palestinian Territories.

Indonesia does not have official diplomatic ties with Israel, but the two states communicate quietly and maintain economic and tourism ties. Indonesia asked Israel through diplomatic channels to allow its foreign minister to visit Ramallah, but the Prime Minister's Office instructed authorities to bar her entry. Following the incident, Palestinian Foreign Minister Riyad Al-Maliki announced his intention to go to Jordan for a meeting with his counterpart.

Israel and Indonesia have increased cooperation in terms of tourism in recent years. According to the Population, Immigration, and Border Authority, 300,000 Indonesian tourists arrived in Israel in 2013, while only 9,442 landed in Israel in 2009. Additionally, Former Economy Minister Naftali Benett participated in an international commerce conference on the Indonesian island of Bali.