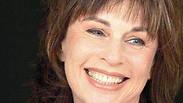 Nurit Hirsh (Photo: Ilan Besor)
Photo: Ilan Besor
Education Minister Naftali Bennett announced on Sunday that the musician and composer Nurit Hirsh won the Israel Prize for Hebrew songs and folk art for the Jewish year 5776.
The prize committee noted that Hirsch is "one of the most prominent and talented composers of Hebrew songs. She chose the lyrics respecting both the author and the Hebrew language."
"I'm pleased and happy, that's what I can tell; I can't say more than that, I still can't believe it," Hirsh told Ynet.
The 72-year-old Hirsh wrote more than a thousand songs, some of which have become Israeli classics, including "Oseh Shalom bimeromav", "Bashana Haba'ah", "Ei Sham", "At Li Eretz", "Perach Halilach" and "Lalechat Shevi Acharaich". She also wrote songs for many Israeli films such as "Tni Li Yad" for "Behind the Walls"(1984) and "Ach Ya Rab" for "Sallah Shabati" (1964).
Hirsh was also the second woman to participate in the Eurovision Song Contest as a conductor, accompanying the singer Ilanit in 1973. In addition, the song "A-Ba-Ni-Bi", composed and conducted by Hirsh and performed by Izhar Cohen won the 1978 Eurovision Song Contest.
Minister Bennett praised Hirsh for her contribution to Israeli music: "When talking about the musician who is the soundtrack of this nation, without the slightest exaggeration, people bring up Nurit Hirsh; she is the soundtrack of romance, with "Perach Halilach", "Bepardes Leyad HaShoket" and "Ata Li Eretz". She is the soundtrack of Zionism with "A-Ba-Ni-Bi" and 'Chelkat Elohim'. She is the soundtrack of Israeli optimism and nostalgia with "Bashana Haba'ah Neshev Al Hamirpeset' , and 'Haderech el Hakfar' . Nurit Hirsh is the good old Israel, the land of Israel when during difficult moments we can hum her tunes and remember who we are and why we are here. "