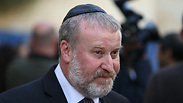 Attorney General Avichai Mandelblit
Attorney general to support relocating terrorists' families within West Bank
Attorney General Avichai Mandelblit expected to approve forced relocation of terrorists' families within the West Bank, arguing that expulsions to Gaza or Syria proposed by Transportation Minister Israel Katz contravene international law and could expose Israel to ICC charges.
After expressing his stance that the expulsion of the families of terrorists to Gaza or to Syria contravenes international law and would expose Israel to the International Court of Justice in The Hague, Attorney General Avcihai Mandelblit has decided allow the government to expel families o the West Bank.
Mandelblit is expected to inform Prime Minister Netanyahu that the expulsion of families from one city to another within the West Bank will be allowed, but only in cases where it can be shown that the family knew in advance of their relative's intentions.
Netanyahu, who approached the attorney general with a request to look into the issue, discussed the matter in the weekly Cabinet meeting on Sunday, saying: "I expect the attorney general's answer to my appeal regarding the expulsion of families of terrorists to Gaza. At the same time, we are considering transferring residences inside Judea and Samaria. "
Mandelblit's decision was based in part on a decade-old High Court of Justice ruling, which determined that in an occupied territory where a military commander is sovereign , he may for security reasons transfer or deport individuals – but only inside the territory under his control.
The justices, headed by then- chief justice Aharon Barak, ruled then that this was consistent with the Fourth Geneva Convention's provisions, and that before implementing this measure, the military commander is permitted to consider the possible deterrent effect on the masses.
The court thus allowed the government and the security forces to move families of terrorists from the West Bank to Gaza. But now, after the disengagement Gaza is no longer under Israeli control, meaning families can only be sent to the West Bank (or other parts of it if the family is already in the West Bank).
Transportation Minister Israel Katz, who initiated a bill that would expel families of terrorists into Gaza and Syria, said Sunday in response that he is continuing to advance the bill "with the utmost intensity and seriousness."
In private conversations, Katz has expressed concern that Madelblit's position is nothing more than "spin aimed at fending off the pressure by MKs to promote the legislation."
However, Katz added that if Mandelblit ultimately approves terrorists' families relocation within the West Bank, he will praise him, as "every expulsion and exclusion has a deterrant value."