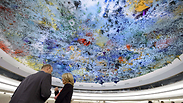 The Comission for Human Rights in Geneva (Photo: AFP)
Photo: AFP
Ambassador to the Permanent Mission of Israel to the UN in Geneva Eviatar Manor this week accused the UN Commission for Human Rights for blindly and consistently singling out of Israel, calling this a "mental disorder" and saying that the commission needs "immediate psychological treatment."

Manor spoke at a commission discussin over the weekend on the subject of the its annual report. He accused the commission of having twisted priorities, as it is set to discuss six reports and five resolutions condemning Israel, while ignoring other countries in the Middle East.

"The commission suffers from Obsessive Compulsive Disorder with regards to Israel," said Manor. "The commission can't control its disorder, and writes more and more reports and resolutions against my country. I want to remind you all that a symptom of this disorder is an increased risk of suicide. The commission will bring about its own death. What this commission needs is psychiatric help. I suggest that the commission expose itself to other conflict areas of the world and deal them with the same level of hysteria that they deal with Israel."

The ambassador requested that Human Rights Commission turn its attention to a statement by the United Nations High Commissioner for Human Rights last week.

"He pointed out exactly what needs to be the commission's priority," Manor stated. "4.8 million Syrians are refugees. 13.8 million Syrians, Iraqis, and Yemenis are considered 'displaced persons.' 7.6 million people in Yemen suffer from food insecurity, and 14 million people have no access to healthcare. Dozens of hospitals have been bombed in Syria since January of this year. Yet this Commission has decided to discuss five or six resolutions against Israel? This is shameful and demonstrates complete disregard for the human rights of millions."
Gold in the lion's den
On another diplomatic front, Dor Gold, managing director of the Foreign Ministry, visited South African campuses during the anti-Israel "apartheid week" held last week, also taking the opportunity to visit Nelson Mandela's childhood home.

Despite concern about violent protests, Gold visited the quad University of the Witwatersrand in Johannesburg, where he with pro-Israel students.

The event was planned in advance and was conducted under heavy security, but no incidents were reported. The students told Gold that Mandela and the African National Congress (ANC) party always advocated for bi-lateral dialogue with those with whom they disagreed.

"They (Mandela and the ANC) would have been against this boycott, and would have applied the doctrine of Nelson Mandela," Gold said. "Those who call for a boycott against Israel work in opposition to the doctrine of Nelson Mandela."

Gold said that although there are anti-Israel protests in the streets of South Africa, it is important to know that there are still groups of students who are against the BDS movement.

"There are black students amongst the anti-BDS people also," he said. "On the one hand, you see the BDS protests saying that Israel is an apartheid nation, but on the other hand, we sit here with South African Foreign Ministry representatives and we speak about how to strengthen the relationship between our two countries. What we are doing is realistic. And what they are doing, I'm not sure where it comes from – it has little influence and seems to me to be out of touch with reality," Gold stated.

Before this, Gold went to the ANC party headquarters and the Mandela House, were he spoke spontaneously to a group of ninth graders who happened to be visiting the site.

"We the Jews understand the importance in the fight for freedom which Nelson Mandela led from here," Gold told the students. "For us, Zionism is the Jewish liberation movement."

Yet not everything is as rosy as it seems. Over 200 anti-Israel events were held during apartheid week, some cooperation with the ANC party. Christian and Muslim organizations also took part in the events.