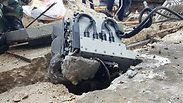 'Spying device' found in Lebanon in December
Hezbollah's al-Manar TV station reported on Tuesday that a transmission and photographic spy device was discovered on the Israel-Lebanon border, which the station said belonged to Israel.

According to the report, the device was found near the Blue Line and not far from a Lebanese army post and airstrip in the village of Markaba.

Hezbollah's official website accused Israel of "violating Lebanese sovereignty after planting spying and photographic devices east of the village of Markaba in southern Lebanon."

The official Lebanese news agency reported the device was a black box equipped with a sensor to detect movement.

Lebanese news site ElNashra reported that large number of troops from the Lebanese army and security forces arrived at the spot where the device was found, as well as a patrol of UNIFIL troops. The Lebanese army announced its intention to file a complaint with UNIFIL, saying that "Israeli troops removed cement barrier blocks from a disputed area, changing its features."

Throughout the years, Lebanon has repeatedly claimed to have discovered Israeli espionage devices in its territory. In December, Lebanese media reported that two Israeli devices were found within two days in Lebanon - one was destroyed by the Lebanese army and the second reportedly remotely blown up by Israel.

In March 2011, the Lebanese army announced it had found and dismantled a device disguised as a rock, which Israel planted near the southern port city of Tyre.

In December 2010, the Lebanese army announced it had dismantled Israeli spying devices hidden in the mountains. That was two weeks after the Lebanese government filed a complaint with the UN Security Council, claiming Israel planted espionage equipment in southern Lebanon.

The Syrians also made similar claims, with the official Syrian news agency claiming in March 2013 that Israeli devices were found in its coastal area.