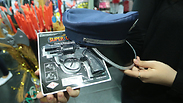 Preparing for the holiday in light of the security situation)
Purim events will be held across Israel next week, but the ongoing wave of terrorism has security forces in the large cities preparing to handle cases of unnecessary panic, among other scenarios.
Toy store owners in Jerusalem decided to limit the sale of toy guns and knives, while customers in Tel Aviv said they were refraining from purchasing exploding accessories.
"This year, we brought fewer toy rifles and pistols; people are afraid that the children will walk around with these things," said Albert from the Cinderella store in Jerusalem. However, Albert expressed his optimism regarding the preservation of the holiday's festive character: "There have always been attacks and people celebrated. We'll celebrate again this year, and we'll continue to celebrate in the future."
Yossi from the Stock Shop store was also hopeful: "Nothing will change what happens in Jerusalem: people go out and celebrate. Jerusalem will not surrender to terrorism."
Albert added that the fragile security situation in the capital raised the prestige of the security forces. "There's more sympathy and demand this year for soldier and police costumes, so we brought more of their costumes. To each his own."
A store owner on Matalon street in Tel Aviv, where there is a large concentration of toy and costume shops, presented a different view: "The security situation affects people; they want fewer guns, firecrackers and exploding stuff. I offered a noisemaking toy this week to someone, and she immediately stepped back and said, 'No, no, no. It's stressful for us. We want happier things.'"
Racheli from the My Toy store said on this topic: "From what I've seen so far, people don't want guns and rifles, but more costumes of knights, and of course of Anna and Elsa. There was a time when people bought jellabiyas costumes with a keffiyeh, which was great in my opinion, but, unfortunately, we're not there. These days, it's very dangerous to wander the streets with weapons and keffiyehs."
Eliran Ben David, who works at a store that imports costumes and accessories, said that the security situation has not affected the demand for costumes of soldiers and police. However, Ben David noted, there is demand in Israel for an unusual costume: "The orange ISIS prisoner costume sold like crazy. It also has a collar of blood; it's really is a hit. The costume is designed for adults, but there were also parents who bought it for their children. It looks like a crazy gimmick."
Lizzie, a mother of two, said that her son will dress up as Spiderman and her daughter as a dancer. "I didn't want the kids to have costumes that will involve guns. The security situation is a big factor: you never know where it's going to come from. We'll have fun and go out, but I'll keep my eyes peeled."
As of now, Purim celebrations in Jerusalem and Tel Aviv are to be held as planned. Police reinforcements are expected to be present to maintain order at large events. Nevertheless, the Ministry of Economy heightened its enforcement campaign against the import and spread of firecrackers and cherry bombs.
Beyond the regular panic that these accessories can cause, there is a concern that their use will unnecessarily tax the security forces by resulting in false reports of terror incidents.
The ministry's campaign is reminding the public that the possession, use and sales of smoke bombs, cherry bombs and firecrackers of all kinds are forbidden. It is also forbidden to possess pistols and rifles that resemble real weapons.